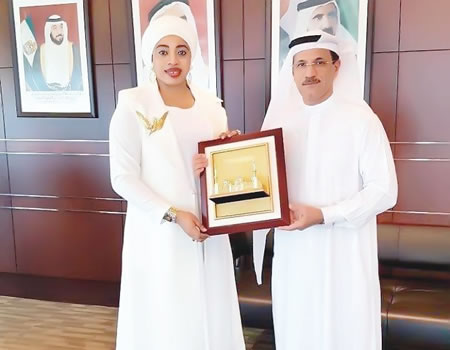 In a quest to keep impacting her immediate environment and continent through her foundation, former wife of the Ooni of Ife, Queen Zaynab met with United Arab Emirate's Minister of Economy, His Excellency Sultan Bin Saeed Al Mansoori to formalise the beginning of international relations with the UAE Economic sector.
The meeting, we learnt was held to improve economic and cultural relations between the UAE and several African nations.
The Bridge, under the patronage of Queen Zaynab is an African Arab organisation formed to promote and improve cultural and international relations between Arab countries in the Middle East and Africa.
Sultan Bin Saeed Al Mansoori pledged his co-operation with Her Highness and relevant ministries to aid in (social and economic) developments of international and regional activities that would enhance and improve trade exchange and dealings between the Arab world and Africa.
Few months after her marriage crashed, Zaynab appears to have put the doleful experience behind her and moved on.
The beautiful lady has remained focused and has not allowed the misfortune of her short-lived marriage weigh her down, as she continues with her humanitarian services
She participated at the recent 72nd session of United Nations General Assembly,  where she was  endowed with the Humanitarian of the Year award from "Kechie's Project" at an event during the UNGA week for her outstanding contributions to women and children across the globe.