Pitfalls Buhari must avoid over cabinet —Accord spokesman
Dason Nemieboka, the publicity secretary of Accord in Rivers State, doubled as the spokesman for the Dumo Lulu-Briggs Governorship Campaign Organisation in the 2019 elections. He spoke to GODWIN ONYEMA on the power play before and after the poll and other issues in the country. Excerpts: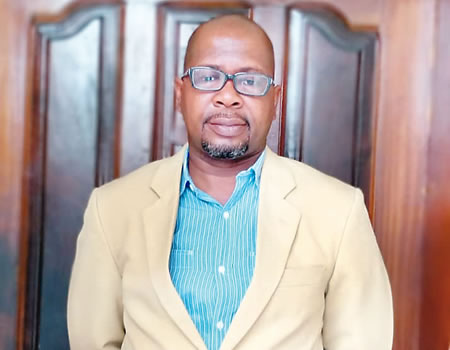 WHAT is your assessment of the last election?
We have a long way to go as a nation. The processes and the management of our electoral system requires an overhaul. However, I doubt if our political class has the interest and will to do the needful, so we might continue in the inglorious path for a little longer.
Why do you think so? Do you think that the election results were not a true reflection of the wishes of the people?
Which people?
I mean the electorate.
Tough question! Firstly, I think that at the national and state governorship elections that affected me personally, it is tricky.I say so because caution is required on sensitive issues; you must be understood in context, otherwise the unfortunate trend will follow. By the unfortunate trend, I refer to the industry of unprofessional and largely poorly educated internet 'journalists,' whose stock in trade is distortion of facts to impress their masters.I will illustrate with two examples. For starters, I am still convinced that President Muhammadu Buhari is clearly the most popular active politician in our country today. I will not doubt that he won both the 2015 and 2019 presidential elections. However, I would not be sincere if I pretend that the claims ofAlhajiAtikuAbubakar (if true) wouldn't discredit the declared results. So, you see, it's not an easy question.Then, in my state, again I am proud to have worked with a very charismatic and hugely popular governorship candidate. Chief Dumo Lulu-Briggs is from the riverine section and so was in good stead to win the election, all things being equal. But you may ask, have things ever been equal in Nigeria? So, even if the Rivers people wanted to change Governor NyesomWike, they wouldn't find a credible candidate on a notable platform to run and win. Chief Lulu Briggs' status as candidate was attacked and even on Election Day; many didn't know if he was on the ballot or not. Therefore, with what we had on ground I think both President Buhari and Governor Wike have the mandate of their people.
If you believe that the President and the governor enjoy popular mandates, would you advise those challenging the results at the election tribunals to withdraw their cases?
I will be broad-minded here. First, everyone that feels cheated in any process has a right to seek redress and I can't be a party to denying anyone his or her rights. However, I would, on a case by case basis, give encouragement or not.For instance, I believe that the Atiku challenge is more of a call for an X-ray of our electoral system. The Atiku challenge and the recent European Union Election Observation Mission report can trigger a fundamental review and thereby strength the process if he doesn't get what he wants. So, I encourage his quest. Then, back in Rivers State, I am yet to see who or what to encourage.
The African Action Congress (AAC) governorship candidate,BiokpomaAwaraand Victor Fingesi are also at the tribunal challenging Wike's victory?
Yes, they are. What are their claims? If they are saying the process was flawed, I agree with them but if the claim is that I would have won, then I think it is wishful thinking, especially the one that you called Awara.You see it is wickedness against God and Rivers people that the erstwhile Minister of Transport, HonourableRotimiAmaechi would assume that Riverswould be reduced to such a backward state. in 1983, the late DrOlusolaSarakiof Kwara State was quoted to have said that if he sponsored a goat in an election, it would win. If AsiwajuBola Tinubu controls Lagos politics, it is the product of hard work, relationships and strategy. Tinubu hasn't taken Lagosians for granted. What Amaechi wants, he could achieve in the next 20 if he was wiser and more strategic. Then, it wouldn't be such barefaced insult on Rivers people. We were against Wike not because he was constitutionally not qualified, no. We tried to stop him because we recognised that if he succeeded Amaechi then, it's no more equitable. But he played the politics; he used more Ijaw than even Ikwerre and he succeeded. Wike visited people; he negotiated, lobbied and made concessions.
How can anyone become the headmaster of Rivers State? There is no way that Awara could have polled 20,000 votes from the 23 local government areas. We must fear God. I believe that Wike is still governor because APC was irredeemably entangled in internal crisis which was by itself a product of bad leadership. The other window opened to the opposition was to rally round the Accord's candidate, but pride and arrogance beclouded reason. So, Wike and the PDP had an easy ride to victory.As for Victor Fingesi, I will simply say, he is a good man but his effort wasn't far reaching enough.
So, are you putting the blame of Wike's victory on Amaechi?
Frankly, I wouldn't run with the absurd theory of the Ikwerre Agenda but I would rather say that Amaechi's selfishness by default gave Wike the easy ride. Notice, I haven't said that Wike would have lost if the opposition was united, but it would have been a close race. I say so because we saw a lot on the ground. Take it or leave it, experience counts and it worked in favour of PDP. Again the PDP focused on its strategy and structure, while the opposition was stronger in the media.
Tell us, have you always felt this way about Governor Wike
As a journalist, you must take and report everything in context. I have been interested in who becomes governor of state since1999, because I understand that after heaven, the office that impacts the life of a people most is that of the governor, not even the president. I became actively involved before the 2003 elections. By 2007, we became concerned about the stay of power in one section. Then in 2015, it became unbearable. So, I boldly fought against the election of NyesomWike in 2015 and 2019. We fought to the end, and if we didn't win, then as Christians we accept it as the will of God. If in 2015 we refused to support the governor, we now have no reason to distract him because Rivers' time and money will be spent and if we don't get value, we all lose as Rivers people.So, if you are thinking that I am now sounding supportive, it is because electioneering is over and governance must be for the good of all.
What would you say about the President MuhammaduBuhari's second term?
The clock is already ticking and we must get to the point where Nigerians can say indeed we didn't make any mistake buying the change promise. And to get there, Nigerians must experience positive difference between the recent past and the present.For now, I can only acknowledge a marked reduction in Boko Haram attacks in the last four years. However, even that is diminished by the high rate of insecurity across the land. Our security challenges are advancing and our security forces appear overwhelmed.I think President Buhari must be legacy focused and driven if Nigerians are to take him seriously. He shouldn't spend six months to assemble another team of jokers and unpatriotic politicians because, that is what sets the tone.
That sounds like a vote of no confidence in the last cabinet?
If that's your interpretation, I'm not sorry. Indeed, Nigerians tolerated that long delay with the hope that he would gather for Nigeria, Nigerians who would put the country on the world map. We thought that the president would be the supervisor and conscience of the government and smart achievers, who would take Nigeria to world; who would mean the various sectors, but he gave us a cabinet of mere politicians who had nothing fresh. The10 percent or so, who appeared smart, were held down by political considerations.
Would you want to mention names of former ministers who shouldn't be re-appointed?
I think the President should drop all those whose focus is to win or lose elections; they should go to the national secretariat of the party. We want men and women, who have pedigrees; those who have shown capacity in private sector; entrepreneurs and men who know that they are working for Nigeria and Nigerians, not their pockets and influence. As a Rivers man, I will love to see a minister that will attract more value to the state and give Nigeria reasons to trust Rivers people more. I doubt if MrRotimiAmaechi can be so described. I stand to be corrected. We have gone past the electioneering, so we should be more objective. I think from the days of the late President ShehuShagari, Rivers has attracted the least projects from the government. But I won't blame the president; many would say it might be because the governments at the state and federal are of different parties. But I would disagree. I think if our leaders are smarter and more patriotic, that would have been an advantage. What is more annoying is that the former minister was in charge of a critical sector like transportation and the railways. Under him has given Nigeria billions of dollars in debts which would be repaid largely with oil revenues that will come from the Niger Delta. Yet, we are only observers of those investments. The old rail station in Port Harcourt was reactivated and began daily shuttles between Port Harcourt and Aba but a few months later, it failed and has remained so; yet, our son was in charge.