Crash in price of cashew nuts: Kishi farmers/brokers recount losses
Iba of Kishi asks for establishment of Cashew Marketing Board
Until this year, global demand for cashew nuts by international buyers made venturing into the export of cashew nuts to countries like Vietnam, India, France and China a lucrative business in Nigeria and this has been a constant source of foreign exchange earnings for years in the country and the sole source of economic power in some towns. Kishi, in Irepo Local Government Area of Oyo State is one of the towns where almost all businesses are part of the cashew chain. But the vibrant economy derived from the planting and exportation of the nuts is missing this year. YEJIDE GBENGA-OGUNDARE reports that prices crashed from N70,000 a bag to N15,000 as a result of countries rejecting Nigerian nuts, leading to economic crisis for Oke-Ogun farmers, especially in Kishi, where economic life is solely dependent on diverse aspects of the cashew industry.
Nigeria is one of the largest producers of raw cashew nuts globally with an estimated annual export volume of at least $167 million US dollars and an untapped potential of over $115.8 million US dollars. In 2017 alone, cashew nut exporters in Nigeria exported over 220,000 tonnes of cashew nuts, a figure lesser than the 2018 export estimate of which over 37,000 tonnes of cashew nuts remain unsold, with new harvests trickling in at the start of February. Nigeria has been rated the fourth largest producer of cashew nuts in the world, a feat that remains unknown to many.
In 2018, the National Cashew Association of Nigeria (NCAN), stated that the country earned N144.7 billion from the export of raw cashew nuts between February and December 2017 with the exportation of 220,000 tonnes of raw cashew nuts and in support of this assertion, the Nigerian Export Promotion Council in the same year confirmed through its Executive Director, Mr Olusegun Awolowo, that the country can generate 4.5 billion dollars annually from cashew exportation and urged farmers to sustain production capacity and focus more on value addition for the product.
The abundance and high profitability of cashew nuts exportation has led to a continuous rise in the number of cashew farmers and nut exporters. This is not surprising because cashew nut is one of the apex commodities in Nigeria, having been given recognition by the Federal Government as the sixth apex commodity for export as an international crop with huge economic value over the years.
The high rate of income generated from cashew nut export consequently encouraged the scale up of production and processing of cashew for exports for more foreign exchange to enter the coffers of the country as the income figures have shown the potential of cashew as a foreign exchange earner. Indeed, many urban dwellers have gone back to towns and villages to take up farming and a lot more jobs have been created.
Exportation of cashew nuts is the export of raw nuts or cashew kernels based on the specifications agreed by both cashew nuts exporters in Nigeria and international buyers. And with the nuts grown in 19 states in Nigeria, the opportunities are boundless, especially in the Oke-Ogun axis of Oyo State known for high production, particularly in Kishi town, known as the best and largest producers with a high Kernel Outturn Ratio.
However, the increased number has subsequently led to high price competition which brings down the international price of the commodity for international buyers in Nigeria. But this seems to be the least of the challenges facing the industry this year; in 365 days after a good run, fortunes have changed and the farmers, majority of who are found in the Oke Ogun zone of Oyo state are now counting losses. In Kishi town, an agrarian community located in Irepo Local Government Area of Oyo state, it is a tale of disenchantment and disillusionment at the turn of events.
Kishi, which was like the headquarters of cashew farming is one of the worst hit by a reverse in fortune of people in the industry caused by an abnormal crash in price of cashew nut because the economy of the town depends on cashew farming. Indeed, the industry is so organised that they established a cooperative society called Kishi Ogo Oluwa Cooperative Investment and Credit Union Nigeria Limited popularly called Ogo Oluwa CICU. The Ogo Oluwa CICU which has Chief Adeniyi Gbemisade as its president is so wide that it has 37 sub unions which includes Farmers Cooperative unit, Irepo-Obada Farmers Cooperative Society and Kishi-Ogo Oluwa Cooperative Society, amongst others
Nigerian Tribune investigations revealed that cashew is still in high demand globally but the Nigerian product has been blacklisted by international buyers because of bad products sold by some people last year. A visit to Kishi town to find out the factors responsible for the crash revealed that prices did not just crash, the crash was shattering; a bag of cashew nut which used to sell at between N55,000 to N70,000 sold at a range of N13,000 and N15,000 during the 2019 season, leading to massive loss on the part of farmers and merchants.
Speaking on the issue, Alhaji Bakare Muritala, the General Secretary of the National Cashew Association of Nigeria (NCAN), Oke Ogun branch, told Nigerian Tribune that Kishi is the largest producer of cashew in Oyo State, adding that they have the highest grade of the product. According to him, the gap between the producers and merchants buying the commodity is part of the factors affecting them as there is no medium for them to arrive at a consensual price.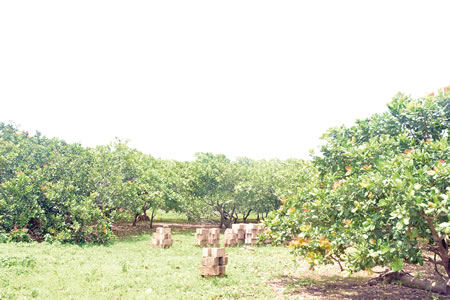 He explained that they noticed that when they take their goods to the market, it is usually rejected and they have to sell at terrible prices. The price, according to him, fell terribly because of the poor varieties of cashews sold by people who are not members of the association but trade in cashew, adding that those people usually steal from people's farms before the fruits are ripe and sell the seed, tarnishing the image of the country.
"Initially the pricing is always from producers but recently we noticed that when we take our goods to the market there are usually complaints from the buyers who claim that the prices are beyond their reach and they can't afford our price. We think there should be a step taken between producers and buyers on reaching a consensus with regards to pricing of goods from the initial stage, all we yearn for is a solid arrangement in determining the price of the produce in order to know our initial cost and avoid the pitfall of rise and fall of the price in the market.
"We have been running at a loss for a while now; this has been happening since the beginning of the buying season this year; that is February, the government should intervene to create a market or connect farmers directly to buyers, eliminating middlemen and also create a meeting point seasonally to determine the price of the goods. The government should also assist us in providing high yield varieties, whether by importation or by connecting the body to research institutes and provide training opportunities to farmers in order to equip them with standard practices.
"We also want government to establish cashew processing industries near farms so we don't depend only on export, help us with agricultural loans for cashew production and the loan should be disbursed directly through the association, help us get favourable market both locally and globally and in addition, create industries locally; it will create job opportunities for our people and this would even raise the bar of the Nigerian economy in no small measure," he stated.
The NCAN secretary however reiterated that though there is a fall in global price, Nigeria's situation is worse due to the poor varieties of cashews exported the previous year, attributing this to those who are not members of the association but engage in trading in cashew business. "People without required training and experience jumped into the market, harvested unripe nuts and exported after sun drying but before getting to their destination, the nuts got rotten and the buyers decided they won't pay such huge amount for our produce and the demands dropped tremendously.
"This has affected most businesses here because this cashew production is the means of livelihood for most of us, but now it is a sour story as some of us can't afford to pay the school fees of our children, some can't get enough money to maintain the farm itself and there are lot of people who through this get shelter and all but now can't live comfortably again," Alhaji Muritala stated.
However, Alhaji Yunusa Igbalaye, who has spent more than 40 years in the business and is the vice president of the Kishi branch of NCAN summarized the situation, explaining that this year's experience is the worst since he started the cashew business. "We heard initially that the government was not ready to buy from us, we thought it was  just from Oke-Ogun, only to realise that it is the whole product in Nigeria that was rejected and this led to a crash of price of cashew. We were told that they rejected Nigerian nuts in the foreign market because some bad elements sold bad commodities last year and many foreign buyers suffered a loss from this."
The major problem being faced in the industry seems not to be the fluctuating price in the international market but the effect of some corrupt people that intentionally sold bad products in the last season which made buyers blacklist Nigerian nuts and according to Pa Igbalaye, "this year was fruitful and many of the farmers plucked the cashew in due season because those that cut corners ran away when the price crashed. There is no need to steal a product that won't attract good price, so they left our plantation and we have good fruits that no one wants to buy except people that want to rip us off. We want the government to help tell the world that our products are up to standard.
"During the last selling season, many people engaged in selling unripe cashew produce. Even some devised the means of using ashes and those who buy them don't usually check this cashew, only to find out when they get to their destination that they were bad, this is what caused the plunge in prices but things have changed, the cashew this year have the best weight and variety, Kishi cashew is the best and with the downturn, those that spoiled the business went back to their original work, leaving us to bear the consequences."
"They used to go to people's farms at night with headlamps to steal since cashew doesn't harbor scorpion or snakes. All I will plead for is government intervention in arresting those engaged in the criminal act of selling bad cashew and pass bills to sanction those who steal cashew or sell it without belonging to the association. Rules in the association only bound the members not outsiders, thus, legislation would go a long way," he concluded.
Balogun Rashidat, a member of the Task Force of the association also expressed her opinion. She stated that Kishi is indeed blessed with the best of cashew in Oyo state if not Nigeria as a whole, adding that they are always the first to have cashew and also the last to have products available for sale every season. The joy at being a cashew farmer she stated is however not there this year for reasons that hinge basically on price crash.
"This year, the price we met in the market plunged many into great difficulty, the truth is that farmers invest lots of money to get bountiful harvest and yield even some of us that sell we go to different farms in order to get more cashew and to satisfy our buyers but this year, it was like a wasted effort as we have almost nothing to show for our efforts, we implore the government to help us out," she stated.
She further explained that herdsmen and their cattle also contribute to the problem. "Aside using their cattle to eat up our farm, they also make away with our ripe cashews and are so skilled that they use cattle to steal nuts, the cattle swallow the fruit and defecate the nut whole, they then pick these, clean and sell," she said.
Mr Ashiru Abdulhakeem Benya, Secretary to the local NCAN on his part said, "although the downturn facing cashew produce is not unique to Kisi alone but Nigeria in general, we are worst hit because this is what we do solely. So, we want government to make a solid law against those who didn't plant cashew but harvest and sell them at a ridiculous prices and also provide experts to enlighten cashew farmers on how to protect our produce as sometimes we are ignorant of what the buyers want; the buyers really treated us badly before they bought our produce this year because they believe we don't have alternative buyers for our product.
Also speaking, Mr Adelaja Phillips Agboola, who inherited the job from his father said, the monopolistic nature of the buyer makes it very bad for us to determine the price of the produce and there is no monitoring from government, so they are the sole buyers, we plead for an open market for everyone engaging in the business."
Also, the chairman of the umbrella cooperative society for Kishi farmers, Chief Adeniyi Emmanuel Gbemisaye on his part said cashew is so useful that it should not be allowed to be relegated. According to him, every part of the cashew is useful as it is used to produce many things. According to him, "the shaft is used in production of brake pads, the juice in the nut is used to make chemicals used in textile industries, cashew is used in the pharmaceutical companies for production of drugs, used in production of honey and fruit for juice while the dried fruit is also used as pig feed, so no part is a waste,"
"We are appealing to government to help us bring everyone together so that there can be regulation in the quality of produce sent out so that distribution of poor varieties would be corrected. Also, we need help to stop the operation of people that are not farmers but would steal illegally from other people's farm to sell through legislation," the farmers stated.
And as Kishi cashew farmers and brokers continue to count their losses, they have made a save our soul call to government to intervene before another important industry dies in Nigeria.
—————————–
Iba of Kishi asks for establishment of Cashew Marketing Board
The journey would not be complete without talking to the head of Kishi town who oversees every activity in the town. The Iba of Kishi, Oba Moshood Oyekola Aweda Lawal, Arowoduye 11, confirmed that Kishi's economy solely depends on the cashew industry, reiterating the assertion with the fact that his wife is also a cashew farmer. He is of the opinion that during the era of the sage, Chief Obafemi Awolowo, cocoa was the cash product and there was a marketing board which regulated activities in buying and selling of the product, asking that such should be incorporated into the cashew industry so that the industry can be moderated.
This is his submission: "We are happy that you followed culture and came to the palace. On the cashew issue, the farmers you met would have told you a lot and the association also. I will state that on the cashew issue, there's a major point that we should consider, during the time of our father, Chief Obafemi Awolowo, cocoa was the cash crop, they had the Cocoa Marketing Board which regulated activities of buying and selling and they monitored activities of middlemen which made things smooth and manageable.
"These should also be incorporated into the cashew industry, let the government birth a Cashew Marketing Board to oversee operations and act as liaison between farmers, brokers and the exporters in order to ensure quality and consensual pricing.
"The second thing I want to say is that in our environment here we are known for cashew planting. Everywhere around; Ibadan, Ogbomoso and so on, despite the fact they also plant, they buy from us. What we have been telling the government is that the whites who buy these things use it for good things. Why don't we bring these industries to Oyo state, we have good land in Kishi and are willing to provide it for such industries for the benefit of the state. If well to do people in the state want to invest in various chains of Cashew business too, we have the land and resources. This will help to empower youths.
"If cashew manufacturing industries are set up here, government will have their profit and we too will have a better life because the raw materials are here bountifully. We want to use this medium to appeal to the government to set up companies here so that we will not only be planting for export which they now process into products for us to import at high prices. So instead of the white people coming here to buy and take cashew away, process and bring back to us, why don't you bring the factory to Kishi where we have the land and raw materials.
The investment will be useful in Nigeria and West Africa. We pray that the government agrees so our people and the state in general can benefit from it. We thank Tribune for coming here to investigate the crash in price of cashew and we know President Muhammadu Buhari and Governor Seyi Makinde will be interested in empowering the people to protect this industry.