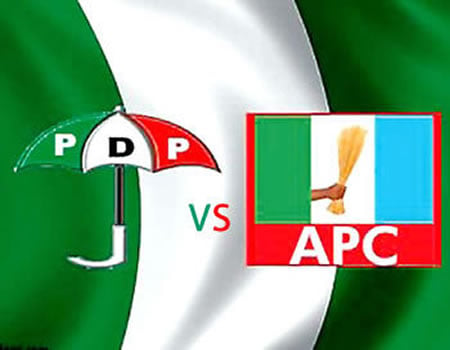 THE Peoples Democratic Party (PDP) has expressed outrage over a suggestion by Minister of Information and Culture, Lai Mohammed, that the opposition party has committed enough infraction to get its registration certificate withdrawn by the Independent National Electoral Commission (INEC).
The minister had advocated the registration withdrawal on Sunday in a press statement where he expressed anger over the opposition party's reaction to the release of Dapchi school girls, saying: "Indeed, there should be a new criterion for withdrawing the registration of a party like the PDP which has failed both as a ruling and an opposition party!"
But in a reaction on Sunday, the PDP in a statement issued by Kola Ologbondiyan, its National Publicity Secretary, alerted the country of what it said was the clandestine plan by the All Progressive Congress (APC) administration to emasculate the opposition and pave way for an alleged self-succession plan of President Muhammadu Buhari.
It said the minister's suggestion showed that he had come to his wit's end.
The statement said: "Our attention has been drawn to a press statement by the Minister of Information, Alhaji Lai Mohammed, wherein he demanded that the certificate of registration issued to the PDP by the Independent National Electoral Commission (INEC) should be withdrawn because the PDP lost in an election and according to him, does not know how to function as an opposition party.
"We want to alert all Nigerians of a clandestine plot by the All Progressives Congress (APC) led Federal Government to strangulate the main opposition party and plot the way for the self-succession plan of their candidate, President Muhammadu Buhari.
"Our party has been following all the schemes and shenanigans of the APC as 2019 general elections draw nearer.
"The main plank of the plot is to ensure that President Buhari runs as a sole candidate in 2019. To achieve this grand plan, they must work to exterminate all known and perceived political opposition platforms in our country.
"Is it not strange that a party who, in its almost five years of existence, cannot constitute a Board of Trustees (BoT) in line with the provisions of its own constitution will be asking INEC to withdraw the certificate of a party whose all organs are intact and effectively functioning?
"Is it not also laughable that a party, who cannot hold even a non-elective convention, will be calling for the withdrawal of PDP's certificate?
"It is imperative to tell Alhaji Lai Mohammed and his cohorts in the APC that any masquerade that dances first will eventually have to watch the dance steps of others from the stand.
"It is clear now that the APC and its Federal Government have come to their wit's end. All they need to do now is to sit by and watch Nigerians collectively return the PDP to powers and by so doing restore the nation to the path of unity, national cohesion and economic prosperity come 2019."