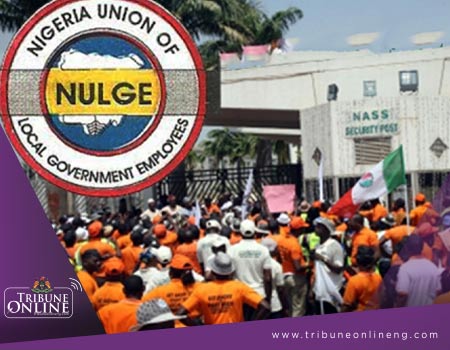 THE Nigerian Union of Local Gover
nment Employees (NULGE) will embark on massive showdown against any erring state government that refused to pay all outstanding salary arrears owing local government workers and teachers.
The union warned the governors not to divert the recently released Second Tranche of Paris Club Loan Refund to states, but to offset council workers' and teachers' salaries.
The Acting General Secretary of NULGE, Chukwuemeke Aguonye, stated this in a chat with the Tribune Online in Benin City, Edo State, last Thursday.
He hinted that with the funds released, the state and council areas should be able to pay and clear all the arrears including that of pensioners.
He said: "From our findings, the union knows that some of the state governors will try to give flimsy excuses that the amount they got was not what they expected. This time around, NULGE is not going to be lenient with any state governor that may want to play pranks with the figures of the amount.
"Judging from what happened from the first tranche of the refunds, some state governors got the money and kept it in their private accounts for several months before they started utilising the money. Some even collected it and paid one or two months to council workers and teachers and that was the end of it."
The former NULGE scribe, Edo State chapter, also said: "We will give them a little time and by the end of this month, if no concrete steps are being taken by the state governments to ensure that these arrears are paid, we will do something strange against them. We will mobilise our members against them."