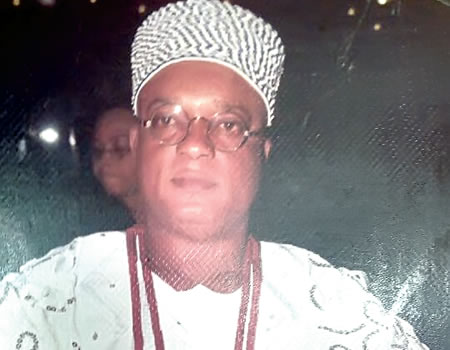 The Adimula of Ifewara, Oba Hezekiah Owolola is one of the long reigning traditional rulers in Yorubaland, having spent 40 years on the throne. In this interview by TUNDE BUSARI, he explains the secret behind his peaceful reign, his experience and coronation anniversary among other issues.

You have spent 40 years on the throne but you still look young, can you tell us the secret behind this?
If I must be truthful to you and to myself, I will tell you that there is no secret, except the grace which God gave me from the beginning in 1977 till this morning you are talking to me. This is what I tell other people who asked me the same question. There is nothing in human life that is more than God's grace. Once you have the grace, you are okay. In fact, you have everything because grace of God is all-encompassing. As I have said, there is nothing as bigger than God's grace. It is enduring if one sticks to God. I find it funny when human beings don't seem to understand this and pursue what should be secondary. If you stand with God, you will receive His grace and achieve all your heart desires. I am not saying you may not have trying periods; it is natural that we pass through some unpleasant circumstances. But if you stick to God, the circumstance can only be temporary.
Kabiyesi, you sound spiritual. Are you also a pastor like some traditional rulers claim?
Look, you don't need to be a pastor to know and understand God. Have you ever bothered to mediate on the creation of the solar system? Let me say that it is beyond what geography teaches. I am not condemning science because the world has benefited so much from science and technology. What I am saying is that God is the Supreme Being who is behind science and the scientists. I am a believer of God and His supremacy over His creatures. And I will continue to adore Him because without Him, there won't be me. So, if this makes me a pastor in your observation, I am okay. I want to say that we should seek God to know and understand Him with a view to living a purposeful life. Again, He is the Supreme Being who creates all other beings-man and animal. I will continue to serve Him till my last day on earth.
How have you steered the ship of Ifewara since 1977 despite the fact that you ascended the throne at a young age?
There is nothing special or different from what I have earlier told you as my driving force. It is God because one with Him is always a majority regardless of his age. I have the favour of God right from the beginning till I attained my 40th year on the throne.
Was that the reason you held an elaborate 40th coronation anniversary?
It was not really but you can say that the anniversary was a thanksgiving of sorts. I also celebrated my 25th coronation anniversary 15 years ago. Specifically, I used the occasion to confer chieftaincy titles on some distinguished personalities and bring people who had not seen one another for many years together right here in Ifewara.
How can you describe the outcome of the anniversary?
I give God all the glory for the success we recorded during the anniversary. Many people entered this town to celebrate with me. These people were impressed with how far we have gone, in terms of development. The Ifewara of 40 years ago is not the Ifewara you have today. Although we still have a long way to go; we are still calling on the government to do more for us. But, we are not doing badly.
You now have the Atakumosa West Local Council Development Areas (LCDA) secretariat; can we say the LCDA was a product of your struggle for development?
I should not go into that because that is not important now. I can tell you that no traditional ruler will want his town stagnated.I wished for development and God answered our prayer. The LCDA is here but I want the government to upgrade it into a full-fledged local government council.
Ifewara is synonymous with a mass cultivation of breadfruit. What is the state of the agricultural product now given the fact that farming is not as attractive as it was 40 years ago?
It is true that Breadfruit is known with us. It is our own agricultural production. But I must not forget to tell you that we did not invent it in Ifewara. It was brought to us like other agricultural products such as cassava and others. Breadfruit was introduced here by those who had served as slaves in Brazil and returned home. They first settled in Lagos where they spent some years before they finally returned home and introduced it. That is the history of Breadfruit. Talking of its state now, I think it also suffers what other farm products suffer because our farmers are becoming old and the young ones are not interested in farming.
What are you doing to reverse the trend and encourage youths to return to the farm?
I am doing my best but there is a limit to what one can do in that regard. It is the government that is in the best position to make farming attractive to the youth through different schemes like giving them loan, giving them land among other incentives available to government. I am using this opportunity to call on government to see to this because agriculture is the future of this country. It is our past and we now see what happens to the oil we all depend on. We need to seek a way out, and one of the ways is investment in agriculture.
I learnt you took a step in preserving breadfruit nut it did not go down well with a section of the town. What was it?
There is no section that was not happy with my insistence that nobody should cut Breadfruit tree and take it to plank sellers. I took the step when I realized that some youths were in that habit of turning Breadfruit tree to plank. I rose against them and also embarked on sensitization programme which included using radio to warn those people. I did not stop at that, I also took the matter to the ministry in charge of Forestry. That is what I did and we are witnessing a change now. It is not proper for me as traditional ruler to sit down here and fold my arms watching our farm being destroyed.
Aside Breadfruit, your town is also noted for being the birthplace of the renowned Pastor Enoch Adeboye of the Redeemed Christians Church of God (RCCG). Does this make any difference in your town?
Through where did you pass when you were coming? Is it through Ilesa or Ile-Ife?
I came through Ilesa.
Okay. I want you to go back through Ile-Ife and see answer to your question.
Can you tell me what you want me to see on Ifewara-Ile-Ife road?
The road to Ile-Ife from here is also good. If you pass it, nobody would tell you before you see what Pastor Adeboye put there. You will see Mount Carmel Prayer Village on your left side of the road. It is a massive infrastructure that hosts Christians from different places. If you like, you may call it our own religious tourist destination.
Finally, what do you tell your sons and daughters who are also in the same position as Pastor Adeboye?
I want them to also come back home and improve the town. We are in an era where indigenes bring higher institutions back to their hometowns. There are many examples. We also need higher institution in Ifewara. We have land and everything needed to host a university, for example. I am calling my sons and daughters all over the world to look into this and make their own contributions to the town. The era of leaving everything to government is over. We are now in the era of self-help. That is why private universities are everywhere. Ifewara is also due for at least one. If you see the location of the prayer village, you will understand what I am saying that we are blessed with an environment which is good for infrastructural development.