Osun should not have one and half university while Oyo has half —Akala
•'On Oyo governorship case, there is fire on the mountain'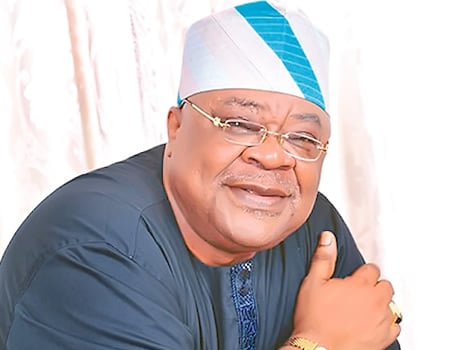 In this interview by AKINWALE ABOLUWADE, former Governor Adebayo Alao -Akala of Oyo State, frowns against continued joint ownership of LAUTECH, his frustrations trying to sever pact with Osun State while in office as governor and talks about way forward on the university, among sundry other issues. 
How do you feel about the present state of LAUTECH?
Looking at Ladoke Akintola University today, I am sad. People have refused to distinguish between patriotism and party politics. I am sad because the foundation that I laid before leaving office was rubbished. They rubished it because it was a disservice to the people of Oyo State and also, by extension, disservice to the people of Osun State.  I had done everything humanly possible to avert the crisis that we have at hand now. I foresaw that crisis that came.  I saw it and that was why I took the step that time. So, for them to have reneged on all the agreement that we reached at that time and decided to play party politics with that institution, it is appalling and as such, I am sad.
What would you have loved to see of LAUTECH today?
What people don't know is this, I am not sad because LAUTECH is located in Ogbomoso. I am sad because the learners are being given unnecessary stress. They are not learning under a conducive atmosphere – it is strike today strike tomorrow. What I would have loved them to do is to define clearly ownership of that school. We cannot continue to beat about the bush. There is no way the relationship can continue forever. So why not now if it cannot continue forever? Other states were created when Osun State was created. Number one, is there anywhere in Nigeria today that two states are owning one university? Number two, I am telling you that Osun wants us to retain our relationship as to the ownership of that university, but has Osun got the capability and financial capacity to sustain it? If Osun State has been meeting its financial obligation as and when due, nobody would cry over who owns what. That is what people don't know. But when there was a neglect on the part of Osun, Oyo State would also relax saying after all, it is jointly owned by the two states.
Can you recall that LAUTECH was once the best state university in Nigeria?
Yes, within the first 10 years of its existence, quote me. Divided interest is the problem. The problem we had started from inception when the pronouncement was made that there would be joint ownership of the Oyo State University of Science and Technology in Ogbomoso. You know why? At the time Osun was created, all the principal officers were from the newly created state. Listen carefully, by the time Osun was created, Osun State College of Education in Ilesa and the one in Ila with Iree Polytechnic and a College of Technology in Esa Oke were all in Osun State. Do you know that those from the new Oyo State were sacked and chased out of those institutions back to Oyo State?'But because of the fact that the leadership of LAUTECH comprised only the Osun State indegenes, they sold the idea of joint ownership to the then military administrators of the two states and they bought that idea. There was nobody to fight for it. During the time of military administration, funds were being disbursed easily. But immediately the civilian administration came in 1999, trouble started. Because they sold the idea of maintaining Osun State indigenes in the university everybody bought it wholesale. That is what we are fighting up till today. In 1991 when Osun was created, the Vice Chancellor was from Osun so also the Registra, the Librarian and the Bursar. With a view that if they asked them to divide, they might not have anywhere to go, so they decided to sell the idea of joint ownership to them and they bought it.
Immediately we agreed on joint ownership, we decided to move the teaching hospital to Osogbo. In 1999, we decided that infrastructures should be sited on the soil of each of the two owner states. That means that structures of the teaching hospital should be built in Osogbo by Osun while the university structures should be built in Oyo State by Oyo State government. I am talking to you authoritatively, most of the structures in LAUTECH Ogbomoso today were built by  Oyo State government. Oyo and Osun have nothing to share. We started with Oyo State property because that site was occupied by Ogbomoso Girls High School, we moved the secondary school from that site to create chance for the takeoff of the university. The biggest lecture theatre at the start was built by late MKO Abiola who was the first Chancellor of the university. All other properties had been built either by late Lam Adesina; Rashidi Ladoja or Alao Akala. Apart from these three, no other person has put a block in LAUTECH because of the unpatriotic act of my successor in office. Now, it is not about Osun or Oyo State. It is about students that are in that university. The university was shut for almost two years. If they make appropriation bill, will they say that money that is made in Osun should be spent in Oyo? When the two states decided to do joint salary payment. One state will pay the first six months salary and the second state would pay the second six months. Osun was in default; Oyo State was paying their own. Prince Olagunsoye Oyinlola pulled a fast one. He established a six-campus university. Ah, and I will sit on that seat and be looking at Oyinlola and I won't look stupid? I said that is okay, I pulled my resources together and built a teaching hospital (in Ogbomoso). The only thing that we had in common was the hospital. I built a hospital that is better than the one in Osogbo for the takeoff of our university and I said enough is enough. Osun would not have one and half university while Oyo State has half and I would be on the seat and say that I am patriotic. The fact is that the chips are down so, we had to tell ourselves – to thy tent oh Israel. I told former governor Olagunsoye Oyinlola that look, I do not have money now to establish a university but the one that I have, I want to keep, please go. There was nothing sinister about it. Everybody has the right to do what they had to do. People should not think that Akala was difficult. I was voted in to serve the people. People would ask where was Akala when Oyinlola was building his own university when I had a university to claim as my own. The only thing that could stand on my way not have the university was if I didn't have a teaching hospital, so I built my own which was better than the one in Osogbo. I built a College of Health Sciences which was better than any other in Nigeria. They now said that they wanted to rubbish it within the eight years that they spent in office. None of them built any other thing apart from what was built in the university by TETFUND. They did nothing apart from paying salaries. How would a university grow like that?
Perhaps you are so passionate about it because the university is in your hometown, Ogbomoso?
Don't  get me wrong it is not because it is in Ogbomoso. Immediately I announced the severance of Oyo State from the joint ownership, I created campuses at Igboho, Iseyin and College of Agriculture in  Igbo Ora. Oyinlola created six campuses for his state university in Osun, so why couldn't I create my own campuses too? I was building a gigantic building in Oyo town which was meant to serve as School of Nursing for the university. The building is now rotting away now. That is why I am sad. With due respect to our children that are in LAUTECH, definitely my children would not go there because my children are grown up but I was doing it for the people of Oyo State. That was what I went into politics for – to serve the people. We drafted an agreement where I said the students (of Osun and Oyo states) would be there 50/50. You know that university is an academic village. It doesn't mean that lecturers have to come from Oyo State. We have lecturers who are Ibos, we have Ghanaians and those who are from other states from different parts of the country in LAUTECH. I have a niece of mine in Ekiti State University as we speak. Oyo State is the mother of them all but Ondo State has three universities, Ogun has two. Osun wants to have one and half while Oyo would have half. But Osun State does not have the capacity to run the universities. That is where the problem lies. Not that the government of Osun State does not want to do it but they are not capable. Definitely, they will not borrow to do anything outside Osun State; nobody would see it.
Osun and Oyo states inaugurated a 10-man committee to look at the way forward on the issue of joint ownership; do you see any hope in this?
Nobody has been able to spell out their terms of references to me. But the question is what are they looking for that is not in the file? There is a law that says from November 31, 2010 the issue of joint ownership would not exist again. Nobody has been able to repeal that law. There was an agreement that we reached; they went to Supreme Court and because of lack of patriotism on the part of my successor, he conceded. If you read that judgement, you would be sorry for Oyo State. It is disservice to the people of Oyo State. It reads that "As the parties have agreed to settle in the terms of the claims of the plaintiffs (Osun State) being granted, it is ordered that all the claims of the plaintiffs are hereby granted against the defendant with no order on costs."
We are not talking about ownership but about how the academic calendar of the school would not be disrupted again. The workers there are now working in fear because they don't know what would happen next
Governor Seyi Makinde just constituted a parallel body to look at the possibility of taking the sole ownership of the university; are you happy about this?
I am not comfortable with that. You see, there must first be political will to do anything you want to do in the world. Nobody believed that within four years I could build that College of Health Sciences in Ogbomoso. It is a matter of telling his colleague in Osun State that my brother, enough is enough. Let's go our separate ways. The marriage of convenience cannot work.
Will that not create further upset?
No. What he would do after he must have told him is to make a clear term of reference saying we want to divorce, what do we do to divorce? That is what they should work on. To do that, we have some templates already that they can follow. Don't let us politicise higher education. If Osun State was capable of paying salaries as and when due, nobody would cry. I foresaw it; I knew it was going to happen. That was why I said let's go our separate ways.
If you were called upon on the issue of LAUTECH, what would be your response?
I may not sleep because of it. Let them put me in a place where there is no air condition, I will try and tell them what they should know.
You are a trained police officer though retired; where does your passion for education emanate from?
If you have education, you have got everything in life and you can move to any height. I will just tell you briefly that when I finished primary six education I didn't have the opportunity to continue immediately but I knew that I would not do any other thing than to go to school. I went out of my way. I will soon write on what I went through to get myself educated. What I went through, I don't want people to experience. My father died when I was two and I just had to do anything while I was with my grandmother. So, why would I not have passion for education? I was taught in the 50s that with education I could excel, so why would I not love education? I want to appeal to Governor Seyi Makinde of Oyo State not to play politics with education. When I was there, I was not playing politics with education. I strained myself to build the teaching hospital. I put Dr Saka Balogun and Professor Obisesan there permanently to be my eyes and my ears. And I had a fantastic consultant who is from Ilesa. Governor Makinde should see LAUTECH as his problem, Governor Oyetola should hands off. Nobody will ask the Osun State indigenes that are lecturers in LAUTECH to leave because they need lecturers for accreditation from the National Universities Commission (NUC), so the Osun State indigenes have nothing to fear. While I was governor, I did not create any dichotomy between those who were from Oyo and those from Osun. There is no way we can continue forever so let us start now.
ALSO READ: Sowore: Rein in your wild dogs of disobedience, Soyinka tells Buhari
Looking at your role in the last election, some people believed that you were probably eyeing ministerial position or you wanted to be an ambassador; you must have felt so disappointed after all?
I do not feel disappointed. Do you know why? Up till about two months ago, the party was in crisis and as such it was not possible for us to speak with one voice. But the truth is that it is politics; nothing more than politics. Everybody that has conscience must be pricked by their conscience. With due respect, in politics there must be patronage. In patronage, you will be able to keep the structure. I won't say more than that.
You must be feeling like a big fish in a strange water now?
No. That can never happen. Politics is local. By the grace of God today in Oyo State politics, you cannot count one to four without counting Akala. I don't need Abuja to be a politician in Oyo State. Rather, Abuja needs me to achieve certain political objectives of who wants to be at the seat of power in Abuja. But, I don't need Abuja person to be what I want to be in Oyo State.
Before we say Jack, 2023 would be here again, what do you have your eye on at that time?
I don't have my eye on anything. Apparently, I don't want to be governor again. I want to advise. Let me say I am not playing politics because of any position any longer but that does not necessarily mean that I can refuse a worthy responsibility.
You dropped your ambition to support Adelabu in the last election and some people were saying that like Senator Iyiola Omisore in Osun, former Governor Alao Akala traded his conscience for a pot of porridge; what is your reaction?
First of all, there is dynamism in politics. If you stand still, you could be swept away. There is no basis for comparing what happened in Osun State with what happened in Oyo State.  I did not have anything to trade away. By that time, it was obvious that none of us would be able to win that  singlehandedly. But as a politician, my calculation was that Adedibu would win that election. If in that election our party already got two senators and seven or eight House of Representatives members, I needed to boost the image of .Adelabu. My aim was not to be governor at all cost. There are some people who are not governors but are more powerful. I said look at this young man and I went for Adelabu. Let me tell you on fact, when people approached me in politics for help, people were talking of pecuniary gains – money exchanging hands – definitely, if we were to win, I would demand some things. I might have other vices but the patriotism in me will not allow me to trade my integrity for a pot of porridge.
The ruling Peoples Democratic Party (PDP) in Oyo State is saying that there is no big deal about Adelabu's petition; do you agree with them?
They are getting it wrong, there is a big deal. What I don't know is this, I am not a lawyer but as things stand now, I don't think anybody can claim victory yet. Law is an ass; it can swing to anywhere. I don't know what the judgement would be but there is a cause for alarm. There is fire on the mountain.
Do you agree that the presidential system of government is too expensive and unsustainable?
I agree.  I think we should revert to parliamentary system. All the noise about restructuring is unnecessary. In parliamentary system, you must first be in the House before you become a Prime Minister.  Ministers will also come from within the parliament. Again, the ministers and the parliamentarians will be taking the same salary. It is cheaper. It will not be about geo political zone; the House would decide who would be who.  Every party would need one another to form a government. If this is so, it means that we would have participatory leadership. One thing people don't know is this. This presidential system that we are practicing will not last. If we don't change the system, the next generation will force a change on us.