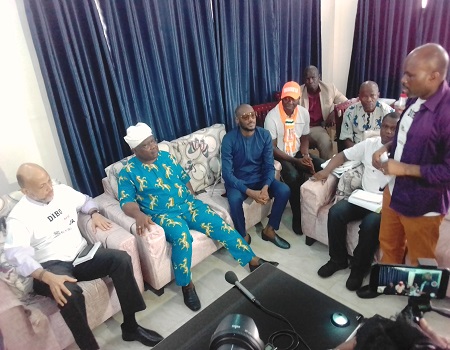 ACE singer, Tuface Idibia, who is an ambassador of the "Vote Not Fight: Election No Be War Campaign," has rallied the governorship candidate of the Social Democratic Party (SDP), Senator Iyiola Omisore, for support, in the organisation's bid to ensure Osun youths are well mobilised to perform their franchise in the September 22 election peacefully without any form of violence in the state.
Idibia made the call on Tuesday, when he led a team of the campaigners to Omisore at his campaign office in Osogbo, saying it became necessary to gainfully engage the youths, being the future of the country with the highest stake in the number of Nigerian voters, calling on Omisore, who, he acknowledged as "a strong political voice in the state" to also support the initiative and be its ambassador.
In the team of "Vote Not Fight" which included Aubrey McCutcheon, Senior Resident Director, National Democratic Institute (NDI), Bukola Idowu, Executive Director, Kimpact Development Initiative, Kingsley Bangwell, Executive Director, Youngstar Development Initiative, among others, Idibia said, they were in the state to meet with other stakeholders, and to stage a concert in Osogbo to reach out to the electorate with the youths in focus.
"We are in Osun State to enlighten the youths on the need to promote peaceful election and further educate them to shift from using violent means of expressing their political views to peaceful and constitutional means, in a concert to be held in the state, so, we are hoping on your support, and we believe that as someone with a strong political voice in the state, through your voice there will be a peaceful election," Idibia said.
Responding, Omisore lauded the initiative, which he said was needed to get the youths engaged politically, but charged the team of "Vote Not Fight" campaigners to also add to their objectives the need for election umpires, especially the Independent National Electoral Commission (INEC), to be just in electoral proceedings, saying, it was the partiality of election handlers that bring about violence on election day.
"Your team has a good idea encouraging a peaceful election and get the youths engaged positively to discourage election violence and rather be peace, but if there is no justice there won't be peace, the reason I want to encourage you to look for a way to also reach out to the election umpires to be just, especially INEC in the way and manner it handles election matters.
"Justice is the bedrock of peace. If there is a sense of injustice or a stint of it, there will be violence, and this is what we also preach against, but we don't want injustice. Instead, we want to ensure that democracy is stabilised. It is good you encourage the youths to be nonviolent, but it is also better you take the 'Vote Not Fight' campaign to INEC, the election umpire, both in Osogbo and Abuja.
"The need to talk to INEC is because we've experienced its injustice in 2014 at the last governorship election in Osun State. Then, at the post-election tribunal, when ballot papers we being sorted, we found ballot papers of Anambra State and Lagos State, in Osogbo. This is an injustice and people have lost confidence in INEC to conduct a free and fair election. We are the largest party in the state, the deputy governor, Mr Yemi Lawal, is a youth and will be willing to work with you.
"But tell INEC not allow rigging, because the APC (All Progressives Congress) has been boasting of rigging. Why are they not campaigning, and even if they want to rig, why not keep quiet, and stop threatening people? Why are they scaring people away? Let everybody be reasonable and be calm and do the right thing. We have seen it before and the reason to doubt the process. Tuface and his team should do more work on INEC, because when people sense injustice, deceit and cheating, there will be violence," Omisore said.
McCutcheon also contributing, lauded Tuface, who he said had put his energy into a free campaign against election violence, and through the campaign, he said, "young people are being enlightened to participate in the political and electoral processes in order to make themselves relevant and their voices heard, while another contributor, Idowu, said the campaign had started since 2015 and lauded the " inexhaustible energy of Tuface," which he said had helped the campaign achieve its objectives.
Bangwell on his part spoke on the objectives of "Vote Not Fight" campaign, which he said was, "to increase youth voter turnout and peaceful participation in elections; to increase nonviolent and positive youth engagement with political candidates and stakeholders on issues affecting them; to create awareness among young people on the importance of voting correctly," while it also "get involved and engage the youth on what to do and not do after the election."