Osinbajo tasks Christians on hard work, integrity, respect for authorities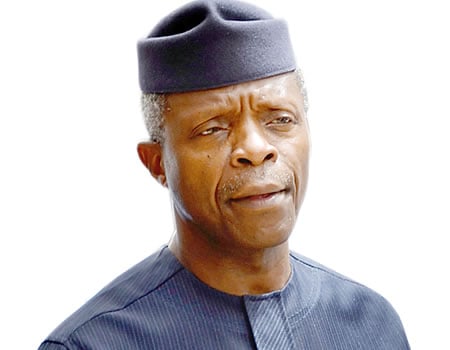 VICE PRESIDENT Yemi Osinbajo has tasked Christians on the principles of hardwork, integrity and respect for constituted authorities.
Osinbajo who spoke in Benin at the weekend during the 50th anniversary of Church of God Mission International said that the church must be able to stand up and preach against all forms of corruption and injustice in order to bring about a better Nigeria.
In a lecture titled: "The Christian Politics and Nation Building", the vice-president advised Christians to imbibe the culture of integrity and hard work in order to engender growth and development in the country, noting that the responsibility of nation building rests on the church.
He commended the founder of the church, the late Archbishop Benson Idahosa who passed on in 1998 for taking the gospel around the world during his time just as he lauded his wife and successor, Archbishop Margaret Benson Idahosa for continuing from where the charismatic clergyman stopped.
ALSO READ: Zainab Ahmed takes over as Adeosun resigns •I'm shocked my NYSC certificate is fake —ex-Finance Minister
Edo State Governor Godwin Obaseki eulogized the late Archbishop Benson Idahosa for revolutionizing the Pentecostal movement.
He said that the deceased "clergyman with fire in his bones" pioneered televangelism in the country which other men of God have since emulated, adding that he would always be remembered as the one who spread the gospel around the four corners of the world.
The governor praised Archbishop Idahosa for carrying on his late husband's vision through preaching that helped to unify broken homes.
Mrs Idahosa Osinbajo commended Osinbajo, a pastor in the Redeemed Christian Church for his contributions to the development of the country.