Orin-Ekiti: How herdsmen destroyed our multi-million naira farm harvests —Farmers
YOMI AYELESO reports how farmers are counting their losses following the invasion of their farmlands in Orin-Ekiti,
Ido-Osi Local Government Area of Ekiti State by herdsmen last week where crops worth millions of naira were destroyed.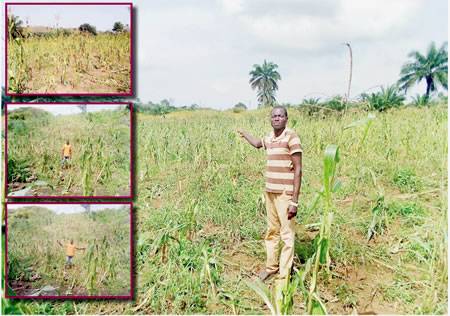 To the people of Orin-Ekiti in Ido-Osi Local Government Area of Ekiti State, the unfortunate incident in June this year where a hunter, Mr. Emmanuel Ilori was killed by suspected Fulani herdsmen while hunting would be the last attack in the community by the herders considering the assurances of government and other stakeholders at that time.
However, just barely five months later, farmers are lamenting and counting their losses after the herdsmen returned to the community, this time around to the farmlands with their herds to destroy crops such as maize, cassava, beans, cucumber, cowpea, among others worth over millions of naira.
Speaking with our correspondent, a farmer, Mr. Olawale Olajubaje said his farm, including a maize barn was completely destroyed by the herd. Olajubaje noted that the herdsmen wielded dangerous weapons when accosted in his farmland, "threatening to attack anyone who challenges them."
According to him, "The Fulani herdsmen brought their cattle to our farms. The cassava we stored in the farm was destroyed at the middle of the night on Sunday. Even beans, cassava, water melon, cucumber that we are yet to harvest were destroyed for their cattle to eat.
"Luckily when I was in the farm on Monday, I saw about 15 of them wielding dangerous weapons and I greeted them but they never answered me. As for my farm, crops worth N1.5 million were destroyed and I don't know how I will cope and survive now.
"The challenge we are facing in the community now is that we don't know when they will be coming back to our farms. We are in serious fear, considering what happened in June this year when a hunter was killed by these people. We can only beg our government to help us in this community. Though, we are seeing movements of security agencies now but all we want is for us to go to our respective farms without any fear of attack.
Another farmer, Mr. Aina Adeniyi told Nigerian Tribune that his one hectare of maize farm was badly affected, adding that the herders are moving to other farms in the area.
He called on the state government and the security agents to save the community from the hands of herdsmen "terrorising our existence."
"They are doing as if nobody can control them, which is very bad and unfortunate. In my maize farm alone, what they destroyed with their cattle is worth several thousands of naira. We can only call on our government to urgently address this issue once and for all before it will get out of hand.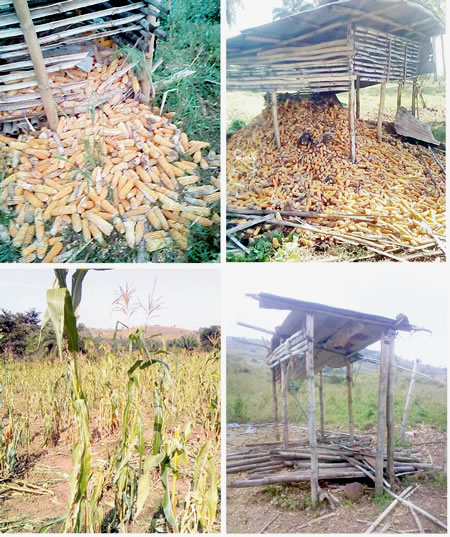 "As at today, they are still around in the farms and they are moving to other areas. There is fear among people including me in going to the farms now because we never can tell when they will attack us," he said.
On his part, Mr. Odeyemi Adebayo revealed that all his investments on his farmland over the years have been destroyed, calling on government to assist the affected farmers in getting part, if not all, of their investment back.
Adebayo said, "My cassava and maize farms were mostly affected. I met them (herdsmen) on Thursday in my farm destroying the crops for their herds to eat. I had to run after sighting them for fear of being attacked.
"We want government to assist us so that this people will not send us away from our community because now they have taken over our farms. I have lost everything on my farm and that is a lot of money."
The head of the community and Eletin of Orin-Ekiti, Chief Francis Falua told Nigerian Tribune that the latest attack of the herdsmen was a "massive destruction" of their farmlands.
He lamented that residents could no longer sleep with their two eyes closed with fear of being attacked by the herdsmen, pleading with the state governor, Dr Kayode Fayemi to save the community.
Chief Falua disclosed that all efforts by leaders of the community to get the attention of government to their plight were not successful, revealing that they might be left with no other option but to stage a protest.
"These people (herdsmen) are gradually sending us away from our community as a result of their activities. There is nothing remaining in our farms, it is a massive destruction of our farm products now.
"Our people cannot go to their respective farms now because of fear of attack by the herdsmen. We are begging our government to help and save us from these criminals. What happened few months ago is still fresh in our minds.
"We have been called to several meetings but nothing changed and we don't want it to get to a point where our people will be confronting them, which you know will be brutal. We are meeting and any moment from now, we will be on the street to register our plights for government to assist us here."
The Commissioner for Information, Mr. Muyiwa Olumilua told Nigerian Tribune that the state governor, Dr Kayode Fayemi was addressing the issue with the immediate deployment of law enforcement agencies to the affected community.
According to him, the government had requested for more military personnel from the 32 Artillery brigade in Akure, urging residents of the area not to take laws into their hands.
Olumilua said, "When report of the invasion got to the governor, he held a meeting with the security adviser and they put together some troops to patrol those areas. In addition to that, they now made a request to the army to draft in more soldiers and in a few days' time, those ones will be fully deployed. The logistics are in place, the vehicles and even motorcycles are ready for them to use in all the nooks and crannies.
"As it is now, the ones on ground are already patrolling the Orin-Ekiti axis. Men of the Nigeria Security and Civil Defence Corps officers are there to ensure peace and for people not to take laws into their hands, so it won't degenerate."
While describing the destruction by the herdsmen as unacceptable, the commissioner assured that the government was putting measures together in order to prevent future re-occurrence.
"The people should be calm; the governor is taking proactive steps in ensuring that these things don't happen again in the state. What we find out is that these herdsmen are not resident here in Ekiti; they are just passing through here and in the course of their journey, their cattle go into farms destroying crops, which is not acceptable. But the people should stay calm, the governor is on top of the issue," Olumilua advised.