One shot, as DESOPADEC workers protest poor welfare in Delta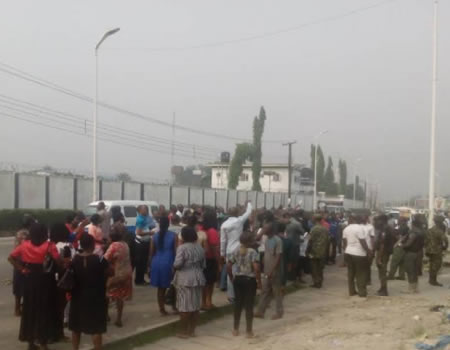 An unidentified security agent was, in error, on Tuesday, shot in the leg by his colleague during a protest march by workers of the Delta State Oil Producing Area Development Commission (DESOPADEC), at the commission's office in Warri over alleged poor welfare and marginalization.
Two of the protesters also sustained injuries while the erroneously-shot security agent was immediately rushed to an undisclosed hospital for medical attention.
The grouse of the angry junior workers bordered on deductions in their salary arrears, denial of promotion spanning 10 years, non-approval of allowances and other benefits they are entitled to since 2010.
The workers, in their hundreds, were, during the hitherto peaceful protest, armed with placards with inscriptions such as "ten years in DESOPADEC yet nothing," "we say no to clocking," "Okowa come carry us oh!," "we need our allowances" and " Lucas must go," among others.
The protest, which lasted for hours, caused epileptic vehicular movement on the ever-busy Warri/Sapele road where the office of the commission is located.
Pandemonium, however, ensued when security personnel drafted to the scene fired several shots and canisters into the air in an effort to scare away the peaceful protesters from the premises of the commission.
Speaking to journalists on behalf of the workers, Chairman, Junior Staff of the Amalgamated Union of Public Corporations Civil Technical and Recreational Service Employees (AUPCTRE), DESOPADEC branch, Comrade John Osah, said the workers had been deceived for too long and denied their rights to periodic promotion and other germane benefits.
John stressed that there was a neglected salary table that needed to be followed since 2010 till date, adding that the board was owing them 30 per cent of salary deductions.
He urged the management to refund the salary deductions, address the issue of promotion and find ways to relate better with the workers.
"We're protesting because for so long, we have been neglected of our rights, they kept on promising that they will do something, but no avail, since 2010 there has been no promotion in DESOPADEC, which is not supposed to be, there are a lot of benefits for us but the management is not looking into it.
"When we go into our Condition of Service of DESOPADEC, they tell us it is invalid, but when it comes to their own, they will always want to play along.
"There are so many things they are deducting from us, we have a bonus at the end of every year to be paid to each staff, they didn't pay us since 2015.
"In 2016, they said there were not enough funds to go about it, we allowed them, in 2017 failed again; they said it was on the government's table, that they were trying to do something.
"We waited for long until the entire staff resolved to say this is the only manner with which we can get our matter treated," Comrade Osah noted.
One of the injured workers, who was allegedly brutalised by security personnel attached to the commission's office, Austine Ejabulor, said he was beaten and injured in the head by one Lucas for embarking on the peaceful protest.
"I didn't engage any security officer in fight, it's a peaceful protest as you can see, but I was beaten, my head was wounded by the officers here, all we asked them for is our money, our benefit, no problem, we didn't use violence, but Lucas wants to kill us for our right," Ejabulor disclosed.
With no management member of DESOPADEC present to address the protesters, the aggrieved workers said normalcy would only return to the commission when their demands.
The demands, they said, were immediate restoration of the arbitrary, illegal and insensitive deductions of 30 per cent from staff salary, promotions effected, labour union bus and secretariat are provided.
Other demands included: workers on permanent transfer should be paid their allowance, implementation of salary structure since 2010 and payment of all the arrears attached to it, among others.