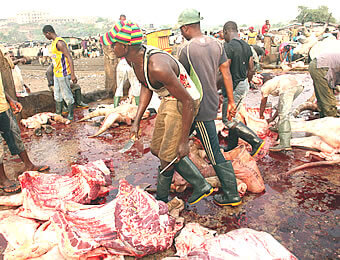 An abattoir is a facility or a premise approved and registered by the controlling authority for hygienic slaughtering and inspection of animals, processing for effective preservation and storage of meat products for human consumption.
Thus; the rationale for quality abattoir is to ensure humane handling of animals and using hygienic slaughtering, dressing procedures. Therefore, good abattoirs should enhance proper meat inspection and safety, waste management system as well as guard against potential danger or meat-borne infectious agents reaching the public or contaminating the environment.
ALSO READ: Atiku writes alibaba.com over PVC sale
According to my findings, the Bodija Abattoir is highly disorganized, cows are set loose in the middle of the market with their dung becoming the carpet on which customers and traders tread. It is even the platform that vehicles move on and footpad unto the cows themselves. From the slaughtering slab flows a thick and torrent shed of red turned brown blood. Every nook and cranny of abattoir is littered with dirt, cow bones, skin, dried intestines and other parts of animals. This is contrarily to the modern day Abattoir
I think the Oyo State Government should be commended for deeming it fit to provide an ultra-modern facility equipped with state-of –the art facility, pipe born water, animal health centre, police post adequate security and transportation systems are in place for ease access to this new central abattoir at Amosun Village
One of the major duties of a responsible Government is to protect its citizens against any infection and diseases that can arise from unhygienic behaviour. Hence, the step to centralize abattoir operations by relocating the butchers to a central abattoir that would be coordinated by professional veterinary officers which will ensure hygienic meat for the people's consumption is a laudable one.
It should be noted that government is not relocating butchers but only relocating Abattoir operations and slaughter services, only slaughtering will no longer take place within the markets for health and quality assurance purposes. Also, the new facility is not privately owned as being claimed by some people but a Public Private Partnership arrangement between government and a private investor which by the intervention of the government was structured to accommodate all stakeholders in the industry.
I will like appeal to the recalcitrant members at the Bodija market to heed the government's directive and relocate to the Central Abattoir at Amosun village, the benefits inherent in butchers using the Central Abattoir will be beneficial to members of the union and the general public as the new place will produce hygienic meat for peoples' consumption a, create jobs for the people, open up the corridors of Amosun village for development and improving butchers means of livelihood.
Fasasi Ismail
Secretariat, Ibadan
---
---