THE Archbishop of Lagos Ecclesiastical Province, The Most Reverend (Dr) Olusina Fape, on Sunday said that the late chairman of the African Newspapers of Nigeria (ANN) Plc, Reverend (Mrs) Omotola Oyediran, committed her life to the service of mankind.
Fape, who is the Bishop of Remo Diocese (Anglican Communion), stated this in his homily at a thanksgiving service in honour of Oyediran, who was interred last Friday, in Ibadan.
In attendance at the service held at Our Saviour's Anglican Church, Ikenne-Remo, were the governor of Ogun State, Prince Dapo Abiodun; former governors of the State, Chief Olusegun Osoba, Chief Gbenga Daniel and wife of former president Olusegun Obasanjo, Bola.
The Bishop, who addressed the gathering on the theme "Life is a race, run it well", quoting from the book of Hebrew 12 vs 1-2, noted that the late Oyediran ran a good race in her 79 years sojourn in life by lending hands to the news poor and the needy.
The cleric said there were many races in life and individuals had reasons for running their races, which according to him started at the point of birth and ended at the point of death.
"There are many races in life. A race to get married; a race to attain the highest level of education; a race to acquire property and wealth; a race to build houses at a particular age in life and many more.
"In all of these, there is a competition with a desire to outshine one another. The race to inherit eternal glory must be according to rules.
Not all Christians can walk tall about the kind of race they are running."
Bishop Fape described Mama Oyediran as a merciful woman, a genuine Christian, who left with glorious testimonies.
"We are here to celebrate a child of God who served her Creator well here on earth. The pride of Omotola was not because she was born into the Awolowo family or that she married an accomplished medical doctor and an educationist.
"Her pride was in helping others. She lived a life of humility. She was a dutiful wife and a caring mother to her biological
and non-biological children. She was an epitome of humility," the cleric added.
In his remarks, Governor Abiodun said Mama Oye- diran served her creator diligently well.
Abiodun also added that she fought for the rights of those who are unjustly imprisoned because of the milk of kindness flowing in her being.
"What will you be remembered for? Our dear beloved Mama was focused, diligent and hardworking. She was a faithful and loving wife. She placed premium on her marriage.
She was a very good wife. She was well brought up. She was a virtuous woman," the governor said.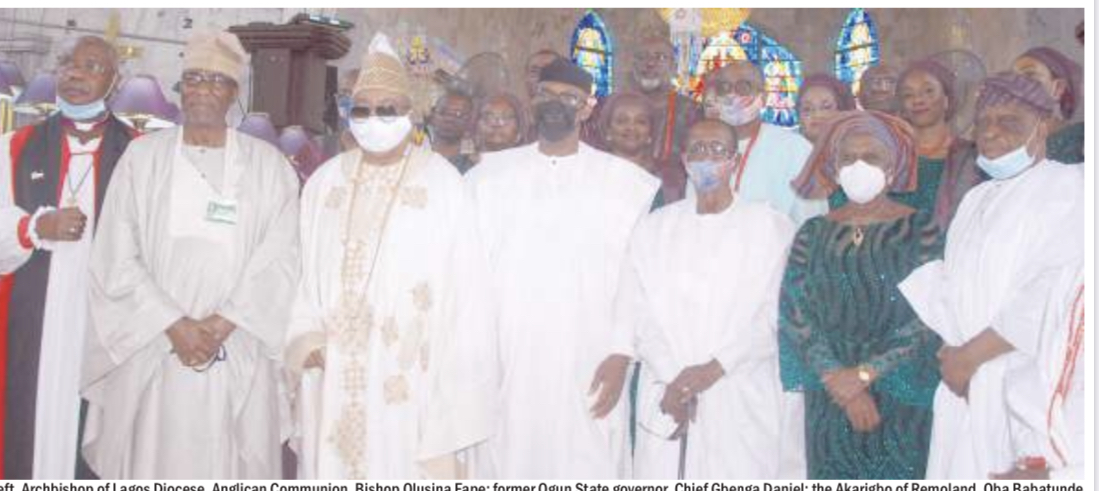 Consoling the widower, Professor A.B.O.O Oyediran, Governor Abiodun said for them to have enjoyed wedlock for over 57 years meant she was a virtuous woman and that the relationship was worthy of emulation and accolades.
"She was a well-brought-up and virtuous woman, who was a good mother and a loving wife to her husband of 57 years. Mama was focused, diligent and hardworking. She was a good Christian, a servant of God, who served God diligently," he said.
Others in attendance were the Ooni of Ife, Oba Enitan Ogunwusi, who was represented by Oba Ade- tayo Oladele, the Adagba of Iyanfoworogi and Sooko Kemade Elugbaju; Pa Ayo Adebanjo; the Akarigbo and Paramount Ruler of Remoland, Oba Babatunde Ajayi, who led other traditional rulers from Remoland; former governor of Kwara State, Chief Cornelius Ade- bayo; the Aare Ona Kakanfo of Yorubaland, Iba Gani Adams; Rear Admiral Akin Aduwo (retd); members of the Ogun State Executive Council; Senator Anthony Adefuye, among others.