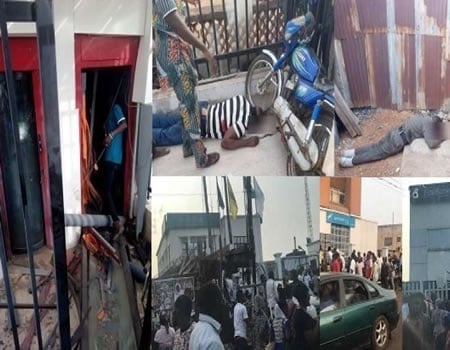 THE Nigeria Police Force said it had arrested 12 more suspects in connection with the recent bank robbery in Offa, Kwara.
The suspects are: Adegoke Shogo, 29; Kayode Opadokun, 35; Kazeem Abdulrasheed, 36; Azeez Abdullahi, 27; Alexander Reuben, 39; Jimoh Isa; 28 and Azeez Salaudeen, 20.
Others are: Adewale Popoola, 22; Adetoye Mufutau, 23; Aminu Ibrahim, 18; Richard Terry, 23 and Peter Kuunfa, 25.
The police had earlier arrested nine suspects in connection with the robbery.
The News Agency of Nigeria (NAN ) reports that armed robbers had attacked five commercial banks in Offa on April 5, during which 17 persons, including policemen and a pregnant woman, were killed.
NAN reports that the Inspector-General of Police( (I-G), Ibrahim Idris, recently ordered the deployment of three units of Police Mobile Force ( PMF), high powered police investigation team and Armoured Personnel Carriers (APCs) to Kwara.
The Force Spokesman, ACP Jimoh Moshood disclosed this while briefing newsmen on the arrest on Friday in Abuja.
Moshood said that items recovered from thé suspects are: two bareta pistols, 20 rounds of ammunition and four cell phones and SIM cards belonging to victims, some whom were killed during the attack.
He said that the suspects had admitted to the various criminal roles they played in the robbery.
"They have previously been investigated and charged to court for armed robbery and cultism," he said.
The Force spokesman said that investigation was being intensified to arrest other suspects still at large.
"The force will leave no stone unturned in unravelling this dastardly act and bring all those responsible to justice,"he said.