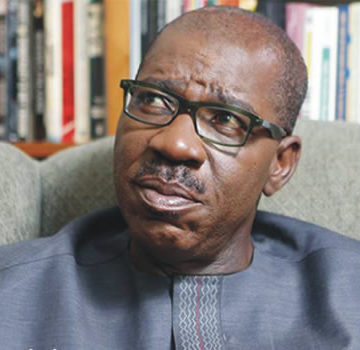 EDO State Governor, Godwin Obaseki, during weekend took a swipe at some top members of the All Progressives Congress (APC) who are against the national chairman of the party, Comrade Adams Oshiomhole.
Obaseki who spoke at the Church of God Mission during a thanksgiving service to mark his second year in the office said that the anti-Oshiomhole forces were against the former Edo state governor because of the change being introduced to the party.
The governor insisted that Oshiomhole is trying to instil a regime of change where nobody is above the law, adding that many Nigerians under President Muhammadu Buhari administration are now afraid of committing crime because they know there would be repercussion.
The governor assured that Nigerians will soon begin to feel the impact of what he termed fundamental changes of Buhari.
He explained that he does not dole out money to people anyhow, quickly adding that he preferred investing massively on infrastructure rather than giving out money to people.
Obaseki promised to support people to grow their businesses and ideas instead of freely giving money out to people.
ALSO READ: Oshiomhole denies meeting Tinubu in London over DSS invitation
He said his administration has commenced the training of 4000 youths to boost security in the state, disclosing that a new security outfit will soon be unveiled.
He said: "One key element is that whatever we do must affect the people. We are stressing our limited resources to work for the people. We will spend money to work for the people.
" Some of the fundamental changes started by Buhari/ Osibanjo will manifest shortly. For the first time, people are now afraid to do wrong. What Oshiomhole is doing is to institute a regime of change where nobody is above the law."
The archbishop of Church of God Mission, Mrs Margaret Idahosa who describes Obaseki as 'talk and do' governor said he has changed the state within two years in office.
Bishop Idahosa "Looking at what is going on in the state where allocation is little but Obaseki is making a big difference.
Edo State Chairman of the Christian Association of Nigeria (CAN) Bishop Oyonude Kure, urged Obaseki to tackle insecurity and fixed roads in the State.
He recommended that private school teachers should be trained in the Edo BEST Programme so that pupils in private schools would at par with those in public schools.