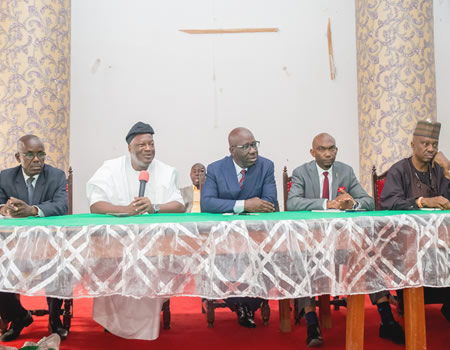 THE Governor of Edo State, Mr Godwin Obaseki and leaders of Edo-Ijaws yesterday, committed to peaceful co-existence, agreeing to work together for the economic development of the state.
They said that the recent agitations by groups to set the Edo-Ijaws against their Benin brothers and sisters are the machinations of interest groups out to frustrate economic advancements being recorded in the state.
At the meeting, the Ijaw leaders declared that they have been living peacefully with their Benin brothers for centuries and were ready to deepen the relationship, more so with the planned development of their area by the Godwin Obaseki-led administration.
The governor speaking to journalists at the end of the meeting said "There have been some angry publications in the newspapers and as a government, we have decided to have a conversation with our Ijaw brothers and sisters to understand what is really wrong, from our findings, the publications were sponsored by outsiders.
"The
Edo Ijaws
have lived here for many years so they understand the customs and traditions of the land.
"I guess some other fellows from outside of the state perceived some threats; have seen the pace at which we were developing the area; to build an ultra-modern port in Gelegele area and those are all developments that suddenly led to the agitations".
The governor said the Edo government and the Ijaw community have taken a stand that law and order must be maintained in the area to allow for meaningful development.
He said his administration was determined to develop every part of the state and the Gelegele area would not be excluded from the plan.
"They have agreed and accepted that they will work with government and that they will talk to their kinsmen".
He said the Ijaw community also agreed to support the government to tackle security threats in their area.
The governor also assured to construct one of the main roads leading to the community which was abandoned by the Niger Delta Development Commission (NDDC) about five years ago.
A leader from Gelegele Community, Hon. Prince Barbs Pawuru, commended the governor for the heart-to-heart meeting with the Ijaw community and expressed satisfaction with the outcome of the meeting.
Pawuru said Ijaw people are peace-loving people and are ready to work with the Edo government to ensure law and order in the community.
"We highlighted the issues and the governor understood them, we are so satisfied with the outcome of the meeting, we are going home to tell our people we should embrace peace, the Ijaw people are peace-loving people, we want peace, but there cannot be peace with injustice.
The governor said the Ijaws in Edo are no strangers, we have been here for centuries and we have never had problems, but all of a sudden it came up," he said.