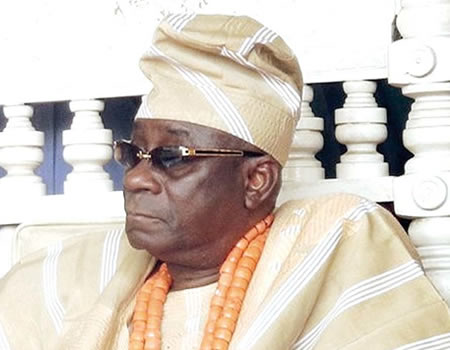 THE Olumegbon of Lagos, Chief Fatai Olumegbon on Monday disclosed before a Lagos High Court, Ikeja how Oba Rilwan Akiolu was chosen by Ifa, the god of divination.
The Olumegbon who testified before Justice Candide Johnson further claimed that there was nothing like 90 days interval in the crowning the of the Oba of Lagos.
Olumegbon who is among the kingmakers insisted during his cross examination by counsel to the claimants, Babatunde Fashanu, SAN, that several obas of Lagos were crowned without observing anything like 90 days interval after which an oba died.
"Dosunmu was chosen same day his predecessor died, same for my grandfather," Chief Olumegbon told the court.
He told the court that the selection of Oba Akiolu was divine. "We received the application of those who were selected by their various ruling houses and to ensure transparency, we requested that the names be submitted through the Olori Omo Oba.
"Moreover, all the envelopes containing the names of the applicants as received were sent for Ifa divination and one by one, the names were screened, when it was Akiolu's, they shouted " this is the man that will rule well and bring desired changes.
"Apart from that, Akiolu was the first selected by all the six kingmakers. In fact, he scored 6-0," he said.
Olumegbon further said that when one particular name was checked by the ifa priests, it was outrightly rejected explaining that the person drinks a lot and womanizes and won't handle the position well.
He further told the court, he followed the process of the selection of Oba Akiolu and that due process was followed. "Any member of the kingmaker could crown the oba and Oba Akiolu was crowned by a member of Eletuedibo family."
He further explained that every eligible prince must trace his lineage to the Ado through the two ruling houses Olugunkutere and Akinsemoyin, excluding Sokun family that was settled with special title.
Responding to why he is a witness when his family was not among the defendants, Prince Kelani said his family has to be a witness in the matter because it concerns them.
The presiding judge, Justice Candide-Johnson thereafter adjourned the matter till November 8, for adoption of address by the counsels.
Joined as respondents in the suit are the state governor, the Attorney-General of Lagos State, Prince Awobade Pearse, a representative of the Ologun Kutere Ruling House and Chief J.J Junaid Eko, the head of the traditional white cap chiefs of Lagos.
Two Princes; Sammy Adebiyi and Rasheed Modile chad dragged the Obab to court contesting his eligibility to contest kingship after the death of Oba Oyekan.
Their arguments bordered on claims that Oba Akiolu was not a descendant of the Akiolu Royal Family as his earlier documents read "Rilwan Akinolu" as opposed to Akiolu.
They also stated that he flouted the rule which stated that 90 days must elapse between the death of an Oba and the installation of another.