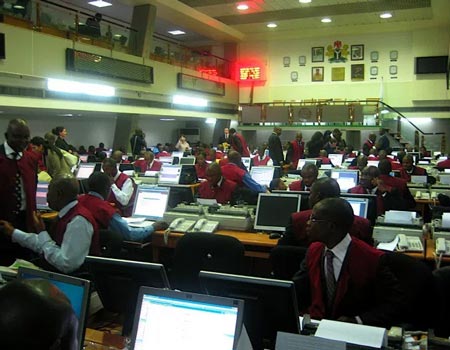 Nigeria's equities market appreciated on Tuesday as All Share Index improved by 0.05 per cent to close at 28,093.30 basis points.
The Market Capitalisation also increased by six billion naira to close at N9.712 trillion, thereby increasing the Month-to-Date and Year-to-Date gains to 9.06 percent and 4.53 percent respectively.
Capital market analysts at Cordros Capital attribute the day's gains to a focus on recent positive development in the macroeconomic space, including relative stability in the foreign exchange market.
Top gaining stocks for the day were UAC-Prop which grew by 9.41 percent to close at N1.86 per share. Fidson followed with a growth of 8.89 per cent to close at N1.96 and Vitafoam added 4.98 per cent to close at N2.53 per share.
They led 23 stocks that appreciated in price during the day's transactions. Also making it to the top five gainers were Honey well Flour Mills and Air service, which appreciated 4.96 and 4.91 percent each to close at N1.27 and N4.27 per share respectively.
On the other hand, 18 equities topped by Dangote Flour, Learn Africa and Cement Company of Northern Nigeria (CCNN) depreciated in price.
These companies fell 4.84, 4.71 and 4.55 percent respectively to close at N4.13, 81 kobo and N4.61 per share respectively.
Also making it to the top five on the losers table were CI leasing and Diamond Bank that dropped 4.35 percent each to close at 66 and 88 kobo respectively.
Meanwhile, Total volume traded increased by 2.09 percent to 212.69 million shares, valued at N2.18 billion, and exchanged in 3,908 deals.