Nnamdi Kanu should softpedal, there will be election in Anambra — Igbo Forum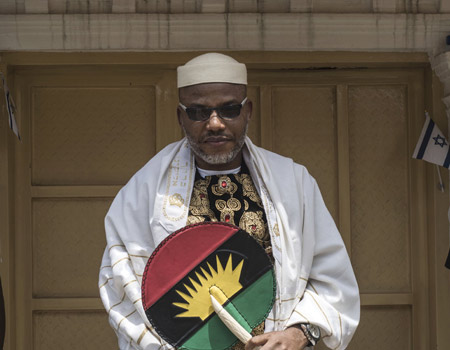 Irked by the threats of Biafra agitators to boycott the coming November 18, 2017 gubernatorial election in Anambra State, a pan-Igbo grassroots sociocultural organisation, Imeobi Igbo Forum, has reiterated that no amount of threat would stop the conduct of the election, stating that the  problem in Igbo land had nothing to do with the conduct of election but marginalisation in a country that Igbos are part and parcel of.
Rising from a closed door meeting held at Obosi, Idemili North Council, the forum, through her National Chairman, Dr Mike Ikegulu-Onugha, urged the Director of Radio Biafra in London, Nnamdi Kanu, to soft-pedal in his boycott threat and listen to the voice of reason, adding  that such threat worsened Igbo problem instead of curtailing it.
"We respect Kanu's enthusiasm but I don't know what he has in mind for saying that there will be no election in Anambra state, he should soft-pedal.
The referendum he is talking about will come one day and it is not by boycott of election that we will achieve a Biafran republic, rather, it will worsen our problem."
"We will constitute a reconciliatory body to help move Igbo nation forward and for those who believe we don't have a king in Igbo land they are funny because we have."
"This organisation has its tentacles in Igbo land and we will screen all the candidates when the time comes to know their antecedents."
Admitting that the Igbos are being marginalised in the country that they are part and parcel of, he said that, "they want to use us as slaves, they don't want us to go."
Contributing, a member, Chief Ralph Agu, expressed satisfaction that the Igbos now want independence that would be achieved through cohesion.