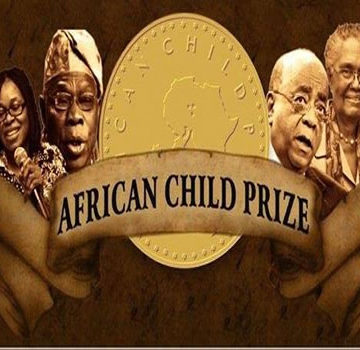 DR Edward Nkwegu, Governorship candidate of the Labour Party in Ebonyi in the 2015 election,  has been presented the prestigious African Child Prize Award 2017 for Leadership in Development of the African Child for meritorious activities in children and women empowerment.
The award was conferred to him on Friday, at a dinner to commemorate the 2017 International Day of the African Child, organised by an NGO, the African Child Foundation, in Lagos.
The theme was :"The 2030 Agenda for Sustainable Development for Children in Africa:Accelerating Protection, Empowerment and Equal Opportunity".
The News Agency of Nigeria (NAN) reports that annually, June 16 is observed as the Day of the African Child.
It was first established by the Organisation of the African Unity in 1991 and aims at raising awareness for the situation of children in African, as well as on the need for continuing improvement in education.
It also encouraged people's spirit of abundance to share something special with a child in Africa.
Speaking with NAN, Nkwegu said that Nigerians should develop more passion toward alleviating poverty and empowering children and women amongst their units.
According to him, the impact will be sustainable development in the society.
"When you empower women and children, you are developing future generation to come because, children are the future of any society.
"When you empower women, you empower the society because they are more stable in terms of taking care of children.
"Women are known to be more reliable, better in training children, industrious and determined.
"So, when a woman is empowered, you are doing same to her children and the society; the African Child should be nurtured and celebrated because a lot of positive talent reside in them."
He said, "Every child has his or her own peculiar talent.
"An enabling environment ensures that this is identified and nurtured;as such the parameters to enable the best African and in particular, Nigerian child to soar, should be put in place.
"Education, Good nutrition, security , availability of basic infrastructure, access to health care and skills acquisition opportunities are important; also, mentoring and love and care are critical to the full development of the African Child," he said.
Nkwegu urged parents to be more committed to bringing up their children and wards, rather than shifting the task to teachers ,nannies and domestic helps.
Mr Owosakponome Donaldson, representative of the NGO in Nigeria said: "There is need to create an atmosphere for the protection of the African Child.
"There is also need to ensure zero tolerance for child abuse; we say no to child labour.
"Today, we honour some individuals and corporate organisations that have added value to the African Child.
"Edward Nkwegu is well deserving of this award especially through the activities of his non-profit organisation, Regina Pacis Foundation,that helps the poor.
"We need more people like him who care about the future of our children by training, empowering and equipping them; without a responsible society, sleep becomes elusive for all and a responsible society is an offshoot of good neighbourliness and parenting," he said.
NAN reports that some individuals and organisations that were also presented different awards during the occasion include Safari books, Stanbic IBTC Pension Managers, Cobhams Asuquo, Tee Mac, Dr Oby Ezekwesili and Mrs Annkio Briggs.