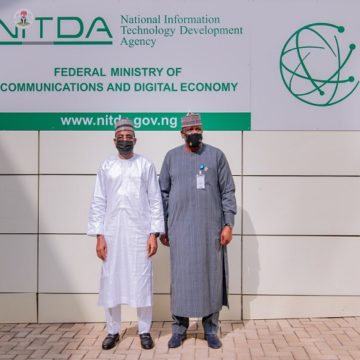 The Director-General of National Information Technology Development Agency (NITDA), Kashifu Abdullahi, has agreed to form a strategic alliance with the Nigerian Army Resource Centre on research and development solutions to tackle Nigeria's security and allied challenges.
The agreement was reached during a courtesy visit by the Director-General Nigerian Army Resource Centre; Major General Garba A. Wahab, at the Agency Corporate Headquarters, Abuja.
The General commended NITDA for assisting the Nigerian Army Resource Centre in providing ICT infrastructure and capacity building for the armed forces.
"ICT equipment given to the centre has been of great impact and many officers and staff of the centre have benefitted immensely from the training conducted using those facilities," he affirmed.
He said the main current concern is how to provide research-based solutions to security problems, particularly those facing the Nigerian Army.
"This time around, we are here to say thank you to NITDA, and also to ask for more intervention and support in ICT infrastructure in order to cater for the large number of personnel that requires the knowledge and usage of ICT," he said.
ALSO READ: Metuh undergoes medical treatment in London
In his welcome address, Abdullahi called for a strategic partnership and collaboration between the Nigeria Army Resource Centre and NITDA for mutual benefit rather than mere support from NITDA.
He argued that most ICT innovations have their origin in the military as he strongly believes that the alliance between the two organisations will enhance the actualisation of their mandates.
"National security is a big challenge in the country today of which I believe the deployment of technology such as drones and robotics can address," he submitted.
He agreed that both parties could work together since research is a major aspect of the military, noting that; "history shows that the Military and Information Technology have been strategic partners for a long time."
He added that communication gadgets started from the Military and that internet and strategy also started from the Military.
The NITDA DG further said that the collaboration and sharing of theoretical aspects would foster the development of a prototype that would help the industry and the country at large.
NITDA, army resource centre to form alliance on research, development solutions