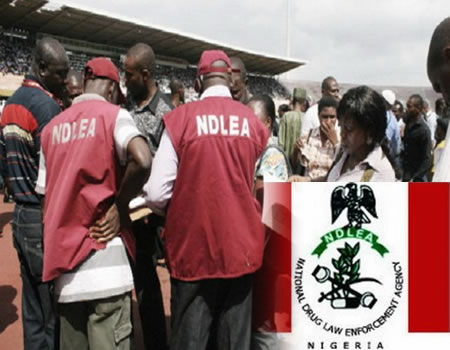 National Drug Law Enforcement Agency NDLEA, Bayelsa State Command on Wednesday said that the command has arrested a total of Thirty-Eight drug suspects in the state in the month of September, 2017.
The command said among the 38 arrested suspects includes Twenty six male adults and twelve female offenders.
In a statement signed by the Principal Staff Officer and Superintendent of Narcotics, Osakwe Ikenna said a total of 29.751 kilograms of illicit drugs were seized from the suspects which comprise of cannabis, sativa, psychotropic substances, heroin and cocaine.
The command said base on statistics of arrest and seizure investigations shows a high rate of abuse of psychotropic substances especially Tramadol by both old and young people in communities across Bayelsa State.
NDLEA equally frowned at a high rate of abuse of Tramadol in the state by women and youths.
Ikenna said the command had in the month of July to September 2017 successfully counselled over 25 substance dependent persons in the state.
The statement says following the alarming trend of Tramadol substances and other psychotropic drugs, the State Commander NDLEA, Abdullahi Abdul is putting in place measures to convene stakeholders meetings as well as rallies to sensitize citizens and residents on dangers of abuse of illicit drugs and psychotropic substances.
NDLEA appeal to parents and guardians to keep watch over the activities of their children and wards to ensure they are not misled or pressured into illegal drugs use.
The command, however, appeals to the resident of the state to ensure vigilance of illegal drug activities in their communities and report to the state command office for further action with full assurance of confidentiality.