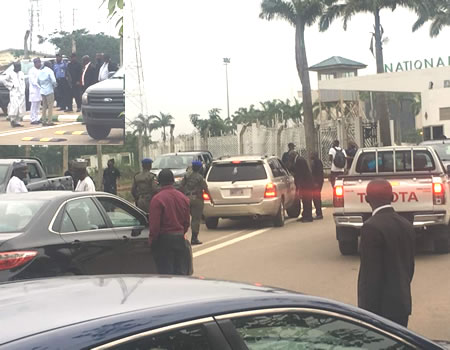 THE Nigerian Bar Association (NBA), on Tuesday, condemned the sealing of the premises of the National Assembly by security personnel.
Recalled that members of the National Assembly, including Senators and Members of the House of Representatives as well as staff and various personnel working within the National Assembly Complex, were yesterday morning, prevented from entering the complex by armed masked men suspected to be operatives of the Department of State Security (DSS).
A statement by the NBA President, Abubakar Balarabe Mahmoud (SAN) said, "The Nigerian Bar Association condemns this brazen and blatant act of the security personnel and demands the immediate withdrawal of this personnel."
Mahmoud said, the action of the DSS was unconstitutional and poses a grave threat to the nation's democracy and called on the Acting President, Professor Yemi Osinbajo (SAN) to immediately call the security forces to order.
The NBA, he said condemns in the strongest terms the attempts by the government or any faction of the political class to drag the Nigerian Security Forces into their ongoing political bickering and manoeuvres totally unrelated to their responsibilities of governance for which they were elected.
ALSO READ: How Mask-wearing DSS operatives blocked National Assembly
"We call on the Military, the Nigerian Police, Department of State Security and all other security agencies not to engage in any unconstitutional operations or allow themselves to be dragged into partisan political activities directly or indirectly.
"We want to remind the heads of these Security Agencies that there is sufficient framework under domestic and international law to hold them accountable for illegal and unconstitutional operational use of security personnel," the statement said.
The association, he said, will continue to monitor the situation and will not hesitate to take further and more drastic action in defence of Nigerian democracy should its call is not heeded to.