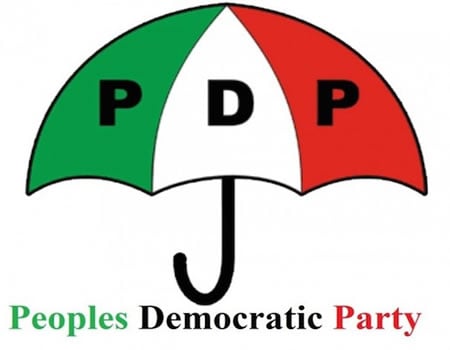 FOLLOWING the siege laid by security agents on the National Assembly earlier on Tuesday, the Peoples Democratic Party (PDP) has called on the legislature to immediately pull the full weight of all legislative instruments against President Muhammadu Buhari, "as that is the only way to save our nation from an imminent collapse."
The party said in a statement issued Kola Ologbondiyan, its National Publicity Secretary in Abuja that sending armed security men to invade the National Assembly and block lawmakers from accessing the legislative chambers, today, Tuesday, President Buhari has crossed the line by placing our democracy in jeopardy, thus setting our nation on the path of anarchy.
The party said: "The invasion of our highest legislative institution by agents of the Buhari-led executive, a few months after the Senate mace was blazingly carted away by armed hoodlums, is condemnable, reprehensible, unpardonable, and completely unacceptable.
ALSO READ: NASS resumption: Osinbajo, Ahmad, Enang meet; Presidency fears government shut down
"With this siege, barely a week after presiding officers of the Senate were held hostage at their residences, it has become clear that the Buhari Presidency and the All Progressives Congress (APC) intend to forcefully overrun and ultimately shut down the highest lawmaking organ of the Nigerian government and pave the way for the total suspension of constitutional rule in the country."
The PDP noted that in Buhari administration's administration's quest to foist a fascist regime our country, the APC-led government has taken several steps and actions tending towards the suspension of the 1999 Constitution (as amended), including direct usurpations of the duties and powers of the National Assembly and the judiciary in governance.
It added: "Nigerians and the international community will recall that the PDP had earlier alerted of this plot, which included the phoney medical trip to London for President Buhari as an alibi to exonerate him from any blame for this sordid assaults on democracy."
The PDP, therefore, called on the Government of Britain to support Nigeria at "this perilous time" by not shielding President Buhari in London.
The main opposition party pointed out that Nigerians want the British government and other members of the international community to immediately condemn and totally reject the ugly developments in our country.
According to the party, Buhari and his APC have consecutively and deliberately put the nation and its democracy on harm's way and the National Assembly, as representatives of the people, must eschew all partisan interests and save the nation by immediately deploying all legislative instruments against President Buhari before it is too late.
"It is instructive to state that if today's assault on our legislature had succeeded, it would have been the second time Muhammadu Buhari would have toppled constitutional rule in our country," it further said.
The PDP commended Nigerians, "who marched out in their numbers today, in response to our earlier call, to resist this brigandage against our nation even as we urge them to remain alert, as eternal vigilance is the price of liberty."