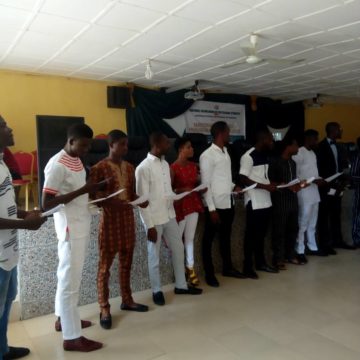 The leadership of the second largest student movement in Africa; National Association of Polytechnic Students (NAPS) has inaugurated new executives in line with its congress held at Kogi State Polytechnic, Lokoja.
The swearing-in-ceremony and Congress, which was witnessed by Student Union Government presidents from various institutions in the country. former NAPS national presidents Comrade Fawale Oluwole Jacob, outgoing national president, comrade Adeyeye Gbenga, outgoing Senate President, Comrade Jeremiah Applewater; Zone B Coordinator Elect Comrade Bishop, NAPS leading and distinguished stakeholders comrades Armstrong Ovia, Salaudeen Lukman and many others graced the all-important event.
The Governor of Kogi State was ably represented by his senior special assistant on Students' Affairs, who appreciated the leadership of NAPS for the privilege given him to represent the distinguished Governor of the State, urged the leadership of the organisation to always embrace unity.
In his remarks, he promised that the Governor of Kogi State, Yahaya Bello, will see reasons to support the struggle to fight against HND/BSC dichotomy and work in synergy with the new executive.
The new president, Eneji Mohammed, in his acceptance speech reiterated his resolve to make the organisation greater and work on the legacies of his predecessor. He promised to maintain peace and unity that the organisation is currently enjoying and also looked forward to a better working relationship with NANS. Mohammed also assured senators from different schools of his unalloyed commitment to their welfare.
Other members of the executive from the six geopolitical zones in the country reaffirmed their resolve to make students emancipation their priority regardless of the challenges ahead.
Furthermore, the national executive appreciates all the polytechnic students for their support, criticism, suggestions and inputs towards the cause.
We state unequivocally that the organisation has no faction and all detractors have been nipped in the bud. The chairman of the Congress Planning Committee CPC, Salaudeen Lukman, declared that the new executive has the mandate to see to the affairs of the organisation. Hence, the congress was concluded with agreement from all officials, senators and stakeholders.