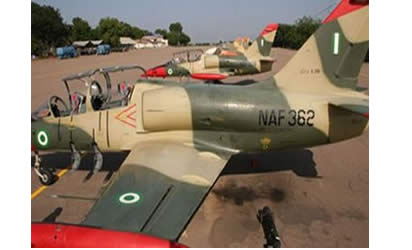 The Chief of Air Staff (CAS), Air Marshal Sadique Abubakar, on Friday, disclosed plans by the Nigerian Air Force (NAF) to establish a Forward Operational Base (FOB) in Taraba, Benue and Nasarawa states as part of plans to further tackle the incessant herdsmen-farmers clashes in the country.
The CAS, who disclosed the plans while delivering a lecture to participants of National Defence College (NDC) Course 26 in Abuja, also announced plans to establish a Quick Response Wing along the Benue-Nassarawa states axis.
He spoke on 'The Nigerian Air Force – Challenges and Future Perspectives', a lecture which drew participants from senior officers of the Armed Forces of Nigeria and those of sister African countries, senior officials of other security agencies in Nigeria as well as federal ministries, departments and agencies (MDAs).
The Chief of Air Staff also spoke on the current and likely threats as well as contingencies from the perspective of air operations and elucidated on his vision for the Air Force, while also highlighting current efforts at actualising it.
He mentioned the establishment of new commands and some units, improvement in human capacity development, improved aircraft serviceability and logistics support as well as enhanced personnel welfare.
Abubakar highlighted the efforts being made in the area of research and development towards improved self-sufficiency, as a result of which he said NAF is currently making great savings in foreign exchange.
Commandant of National Defence College (NDC), Rear Admiral Adeniyi Osinowo, said "you cannot win any war today without an effective and virile Air Force", adding that there was no doubt that the current NAF leadership was taking a lot of laudable and unprecedented steps, especially in the area of technological development, in a bid to reposition the NAF for greatness.
He particularly cited the recent feats by the NAF in locally designing and producing an operational Unmanned Aerial Vehicle (UAV), among many other breakthroughs in the area of research and development.