My wife fought our tenants naked, pushed me down from a storey building —Husband
•He pampered his second wife, both beat me to a pulp —Wife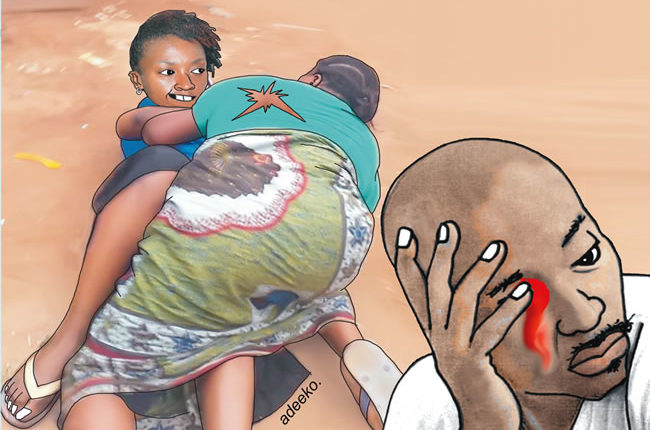 A man, Nuru Ayodeji, recently pleaded with Oja Oba/ Mapo, Court C Customary Court, Mapo, Ibadan, Oyo State, to dissolve his union to his wife, Adijat Ayodeji.
Nuru alleged that his wife was stubborn and always refused to listen to his advice.
He stated further that she was troublesome and was in the habit of fighting him and their tenants.
Nuru explained that any time Adijat fought with either her or their tenants, she would strip herself naked.
According to him, Adjiat's attitude discouraged people from renting their rooms.
The plaintiff told the court he took a second wife in order to curb the defendant's excesses but that rather than be sober, the defendant grew worse.
Nuru stated that Adijat once picked up a fight with her rival late in the night and almost killed her when she attempted to hit her in the head with a stick but that the latter dodged it and fled into the street.
He added that Adijat did the worse when she pushed him down from the one storey building they were living in during a brawl and ran away from home thinking he was dead.
Nuru explained that he had a broken arm and was incapacitated for months, but that Adijat refused to check on him at the hospital and also refused to return home months after he was discharged.
The plaintiff told the court he had had enough of his wife's atrocities and therefore begged that their wedlock be dissolved.
Adijat, who refused that their marriage be dissolved, told the court that her marriage to Nuru started experiencing crises when he took a second wife.
The defendant explained that her husband pampered her rival and took sides with her any time they had a misunderstanding.
Adijat stated that Nuru and her rival once beat her to a pulp.
She added that at another time, her step-son slapped her, tore her clothes and left her naked.
The defendant further explained that she did not push her husband down their one-storey building but that he lost his balance and fell while throwing down some containers she filled with water.
Nuru in his evidence said: "My lord, my wife has pushed me to the wall, she must therefore leave my house.
"Adijat is stubborn and rigid. She refuses to listen to my advice and never considers taking counsel from me.
"She always calls off my bluff and tells me to do my worst.
"My wife extended her unfriendly attitude towards our tenants and she automatically lost the respect they held for her.
"Adijat turned our compound into a boxing arena; she fights with our tenants almost every day.
"My lord, there were occasions she would strip herself naked while fighting in our compound.
"Today, nobody wants to rent rooms in my house because of my wife's disgraceful act," Nuru said.
He added: "I took another wife when it was obvious that my relationship with Adijat had broken down irretrievable. I thought peace would be restored to my home taking this step, unfortunately, Adijat added to my sorrow.
"She refused that peace reign and was always at loggerhead with her rival.
"There was a day Adijat picked a quarrel with her rival and they fought till around 11:00 pm. All my efforts to appease both parties failed.
"Adijat suddenly went for a stick and attempted to hit her rival with it, but she dodged it and ran into the street.
"She ran after her rival shouting, "thief, thief" and throwing stones at her.
"My lord, my second wife would have been killed by the vigilante group watching our, neighbourhood," the defendant added.
"I lost my patience with Adijat one day and ordered that she move out of my house, but she refused.
"Fuming, I went for her belongings and threw them down from the one storey building we are living in.
"My lord, before I knew it, Adijat came behind me and pushed me down. Thinking I was dead, she ran away from home and abandoned me.
"I had a fracture in my arm and was on admission in the hospital for a while, but she refused to pay me a visit.
"She returned home not quite long and has again started disrupting the peace in my home and compound," the plaintiff stated.
Adijat in her evidence said, "My lord, I disagree that my marriage to Nuru be dissolved.
"Nuru brought crisis into our home when he took a second wife who started misbehaving immediately she moved in.
"My husband did not help matters. He pampered my rival and always took sides with her any time we had a misunderstanding.
"Nuru instructed that I should always be the first to greet her and I refused, insisting it should be the other way round.
"There was a day he joined my rival in beating me to a pulp.
"At another time, her son who was always rude to me, slapped me, tore my clothes and left me naked.
"My lord, Nuru lied that I pushed him down a storey building. He lost balance and slipped while throwing down my plastics water containers."
Ruling after he heard both parties, the court president, Chief Ademola Odunade, dissolved their marriage.
Both were advised to maintain peace.