My wife comes to my office, strips herself naked, fights and rains curses on me —Husband
•We have been joined together as one, nothing can separate us —Wife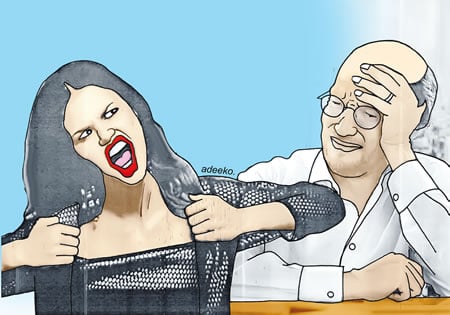 A man, Isiaka Adams has dragged his wife, Bilikis Adams to Oja Oba/Mapo Court C Customary Court, Mapo, Ibadan, Oyo State, seeking that it puts an end to their 15-year-old marriage.
Isiaka in his divorce suit alleged that his wife was troublesome and violent. He added that she never ceases to embarrass him in public.
The plaintiff further appealed to the court if his prayer was answered to restrain her from coming to harass him at his place of residence and work place.
Okorocha to Ihedioha: You can't order my arrest, it's a direct invitation to anarchy
Bilikis did not admit to claim when it was read to her. According to her, she doesn't want her children to suffer as a result of broken home.
Isiaka, giving his evidence, told the court that:"My lord, my wife does not wish me well. She's bent on seeing that I'm sacked from work.
"She's always fighting me and has refused that peace reigns in our home.
"Bilikis is not happy that I'm doing well on my job and advancing in life. It is obvious through her behaviour that she prefers I remain stagnant.
"She has never caught me with any other woman but she keeps saying that she knew I would soon take another wife now that I'm making progress on my job and appear to be comfortable.
"Bilikis makes life difficult for me at home. She's troublesome and will soon snuff life out of me if I don't end our marriage.
"My lord, my wife fights dirty. We start each day with a fight while she rains curses on me every night.  Any time our neighbours hear our voice they know the dawn has come.
"Bilikis gets angry over trivial issues. When she's angry, she becomes uncontrollable and behaves like a mad woman. She destroys my property by smashing each item in the house on the ground.
"My lord, she doesn't stop at this.  She comes to my work place to embarrass me.
"Bilikis will break security protocols, storm my office, strip herself naked and fight me. She will keep shouting until she draws the attention of my bosses to the scene.
"I have received queries and warnings and I'm afraid the next step could be a sack.
"Not yet satisfied, my wife would be there waiting for my return in order to start a brawl.  Bilikis is not bothered if I'm hungry or not and hardly cooks. I, therefore ensure I fill my tummy before returning home in order that I might have enough strength or stamina to face her troubles.
"My lord, on many occasions, as we are rounding off for the day and ready for bed we will start another round of fight.
"Bilikis will again remove her clothes and rain curses on me, naked.  She curses me in the public also. She also took to blackmailing me of recent.
"My lord, I've faced enough embarrassment as a result of my wife's misconduct. My health is deteriorating by the day and I can die at any time if care is not taken.
"My lord, I entreat this honourable court to separate us before she terminates my life, "Isiaka pleaded.
"My lord, I'm not willing to divorce my husband, "Bilikis told the court.
"Our children are young; I don't want them to suffer as a result of broken home.
"All that my husband has said are lies. He wants to get rid of me in order that he might take another wife now that he's comfortable.
"I struggled and suffered with him when he was nothing, but he completely changed towards me   immediately he had a breakthrough.
"My lord, we have been joined together, we would live together until death do us part, "the defendant said.
Ruling after he had heard both parties, the court president, Chief Ademola Odunade dissolved their union and granted custody of their two last children, ages nine and five to the defendant while the three others were asked to be under their father's care.
Isiaka was asked to pay the sum of N10, 000 monthly for their feeding. He was also mandated to be responsible for their education and health care.