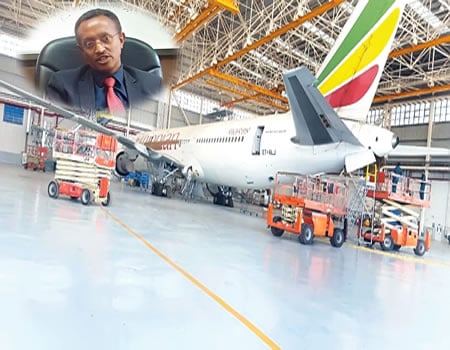 The Managing Director, International Services, Ethiopian Airlines, Mr Esayas WoldeMariam, in this interview with select travels, tourism and aviation journalists at Addis Ababa, Ethiopia, speaks on aviation liberalisation, infrastructure development in Ethiopian Airlines and operations in five cities in Nigeria, WALE OLAPADE brings his position on the airline's new spirit and visions.
Connecting more cities in Nigeria
As a Pan-African Airline, serving our beloved continent Africa has always been a source of pride for Ethiopian Airlines.
With this commitment, Ethiopian has been able to create a missing link, availing easy movement of Africans from one corner to the other.
During the temporary closure of Abuja Airport for reconstruction, a few months ago, we were the first foreign carrier to land at Kaduna Airport, allowing our passengers to experience ultimate comfort onboard our B-787 Dreamliner.
In line with our long-term strategic roadmap, Vision 2025, expanding and availing a more efficient intra-African network will remain at the core of our operation and we shall keep on playing the positive role in catalyzing the socio-economic development of our continent. ET is connecting five cities in Nigeria, which include Abuja, Lagos, Enugu and Kano, Kaduna.
Ethiopian Airlines maiden flight to Nigeria dates back to the 1960's; same time the country got independence from foreign colonisation.
Global aviation industry and changing economy
The competitive environment is not conducive for African Airlines in general
Major challenges include an uneven playing field, High fuel cost, High taxes and navigation fees, poor Infrastructure etc….
Despite the challenges, ET managed to remain successful, being the fastest growing airline in Africa.
Effort to embrace and actualise open sky policy
As far back as 1999, 44 countries agreed in Yamoussoukro, Côte d'Ivoire (the Yamoussoukro Decision) to deregulate air services and promote the opening of regional air markets to transnational competition.
Since then, however, implementation has been slow and inconsistent.
Industry experts often criticise African countries for having more bilateral open sky agreements with partners outside the continent than with African partners.
Ethiopian along with the African Union, AFCAC, AFRAA and all African carriers are lobbying for the implementation of the Yamoussoukro Declaration (YD) that is geared towards a comprehensive reform of the air transport industry and the unification of the fragmented African air transport market.
The Yamoussoukro Declaration is an African Civil Aviation Policy geared towards a comprehensive reform of the air transport industry and the unification of the fragmented African air transport market. To make this happen, Ethiopian is trying hard to actualize the full liberalisation that makes Africa as one sky. This will in return help Ethiopian to boost its market within African more than ever and breaks the gap in 100 percent.
Building a pan African partnership block
In November 2016, AFRAA declared Ethiopian Airlines the best in Africa for the fifth consecutive time, recognising, in part, its exemplary cooperation with other African carriers.
It has embarked on an ambitious development program, which includes promoting travel hubs in East and West Africa with regional partners.
Other airlines such RwandAir are following suit, indicating that, with open skies and fair competition, African airlines can successfully find their way to profitability.
Aircraft Philosophy and trend
In line with this, our values for selection and operation of our fleet include young, modern, new generation, state-of-the-art aircraft that are fuel efficient, with less than five average years, Right-sized fleet that best fits the airline's projected traffic and route network suitable aircraft for point-to-point service delivery by availing more frequencies and creating seamless and convenient connections products that gives ET the competitive edge both in existing and new markets.
Comfortable and pleasant onboard services for our passengers by providing   the best and high standard passenger amenities and in-flight services; By ensuring fleet type commonality as much as possible – reduce maintenance cost, increase common crew type rating and decrease spares holding Highest standard in technology and maintainability to ensure aircraft airworthiness and safe operation environmentally friendly fleet with low emission.
Nigeria our ally
Even since our maiden flight to dates, back to the 1960's, Nigeria has been an ally for us.
Flying to five Nigerian cities, we have been serving the Nigerian market and Ethiopian airlines have been frugal in managing the countries resources and have succeeded for decades, how has the airline managed to survive despite other national carriers in Africa sinking?
We are very confident that we know Africa better than anyone because we have been serving the continent for the last 70 years.
Multi-hub strategy and connectivity
The efficient network of connectivity based on a strategically advantageous located hub which enables us to connect Africa with the rest of the world better than anyone else. Ethiopian has positioned vast Intra-Africa network better than any Airline, making its customers available with the best connection with the minimum layover in Addis.
One of Ethiopian Airlines' strategies is to have multiple hubs in Africa connecting it with our main hub, Addis Ababa, as well as a hub to hub connections. Next, to the main hub, Ethiopian Airlines has established its second and third hubs in Lomé (Togo) in partnership with ASKY Airlines. The third at Lilongwe, Malawi with Malawian Airlines:
Liberalisation policy in Aviation
Liberalisation of air transport has been proved to be the best way to bring about high traffic volume, economic growth, free and fair market competition among carriers. Since this policy is advisable and very useful, governments are not encouraged to put restrictions on this as liberalisation helps carriers to optimise networks within the cross-continental market.
Best model carrier for Nigeria
As for Ethiopian airlines, its direction is clear, "Fast, profitable and sustainable growth is the underlying management philosophy at Ethiopian and it is in this vein that it has outlined a long-term vision that will transform the airline to a leading aviation group in Africa by 2025. Nigerians can emulate this best practice for the betterment of their airline.
Though Ethiopian is fully owned by the Government of Ethiopia, it is fully managed by highly experienced aviation professionals with an average service year of more than 25 and 30 years. This clear disparity between ownership and management is attributed as one of the key factors for our sustainable success.
Balancing the global market share
African airlines should sense this as a serious threat as it is impacting all of them, not only one or two airlines. Therefore, they have to integrate their transport policies and strategies so that they can jointly work together through different code sharing strategies, as well as cooperations and alliances.
Improving their air transport share should be central at the continental agenda for Africans.  By doing so, they can maximize their existence in the sky of Africa. Otherwise, the existence of Africans in their own sky will be a fable if things perpetuate in this way.
Again, African airlines have to sit and consult on the ways in which they work together to benefit from the huge market opportunity through cooperation and learning one from the other (experience sharing).
Improving aviation in Africa
First African governments should bring this serious agenda to their conferences, meetings, consultations and should device short and long-term plans to tackle the challenges.
Experience sharing and benchmarking good aviation models comes next. After that, adapting the best-calculated practice to their reality and implementing them can be a solution.
Vision
As Ethiopian is a Pan-African Airline, serving our beloved continent Africa has always been a source of pride for us and it will ever be.
In line with our long-term strategic roadmap, Vision 2025, expanding and availing a more efficient intra-African network will remain at the core of Ethiopian and we have to play the positive role in catalysing the socio-economic development of our continent.