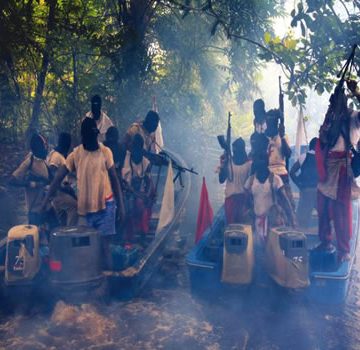 Suspected militants have laid siege to riverine communities in Ogun State Waterside Local Government, sacking the entire 10 primary schools located in the riverine villages and disrupting the schools' academic calendars.
Disclosing this to Nigerian Tribune exclusively on Wednesday, Chairman, Ogun Waterside East Local Council Development Area, Alhaji Abajo Musa Olabode explained that teachers posted to teach in schools in Ode-Omi town have since stopped coming due to rampaging activities of militants along the Makun to Ode-Omi water way.
According to Abajo, "Since academic activities resumed, teachers posted to schools here have stopped coming because of fear of being kidnapped. The militants have stationed themselves in between Makun and Ode-Omi water route's. They raid boats crisscrossing this routes, while also storming primary schools to kidnap teachers.
"Just this Monday, we appealed to the teachers of Ode-Omi Community Grammar School and the Local Government Primary School, both in Ode-Omi town to come back, which they did. But the militants came, and all the teachers fled for their lives. Even students ran away.
"As I am speaking to you, no teacher is currently attending to students in the entire riverine area of Ogun Waterside Local Government.
"They have sacked the Local Government School in Awodikura, another riverine village in Ode-Omi town.
"We have 10 primary schools in the entire riverine towns in Ogun Waterside Local Government, and none of the teachers posted to this schools still resume for duty out of fear of being kidnapped. We are appealing to government to come to our aid, our children are no more going to schools."