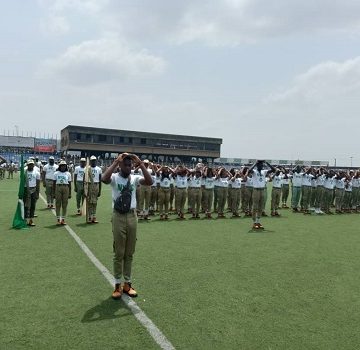 The Governor of Oyo State,
Engineer Seyi Makinde
, on Thursday, charged the state
National Youth and Service Corps (NYSC)
members on developing their creative endowment.
Makinde, who was represented by Oyo State Commissioner for Youth and Sport, Mr Seun Fakorede, at the passing out ceremony of batch A 2019 corps members at the Adamasingba Stadium, Ibadan, the state capital.
He urged them further to put to use skills acquired through the Skills Acquisition and Entrepreneurship Development (SAED) as it is a very good measure to reduce the alarming rate of unemployment among graduate youths.
"The government cannot provide jobs for the teeming population of graduates. I implore you to continue exploring the skills you acquired during your service year. Having been empowered with skill, I assure you that have good stead in the society," he said.
The governor expressed gratitude to the NYSC for its continuous contribution toward developments in urban and rural communities, social services, health care and education. He assured that the welfare and safety of corps members will always receive priority attention as it will boost their morale for them to give their best.
The Oyo State NYSC coordinator, Mrs Grace Ogbuogebe, in her address congratulated the corps members on the successful completion of the mandatory one year service to the nation. She urged corps members not to be perturbed about the current situation in the country but to believe in themselves and continue to keep their visions and dream alive.
"As you exit the service today, always remember the laudable ideals of the NYSC which includes among others, patriotism, hard work, perseverance, self-reliance and selfless service as this virtues will always speak for you wherever you go," Ogbuogebe said.
She revealed in her address that 3,712 corps members comprising of 1,694 males and 2018 females would be existing the service year today.