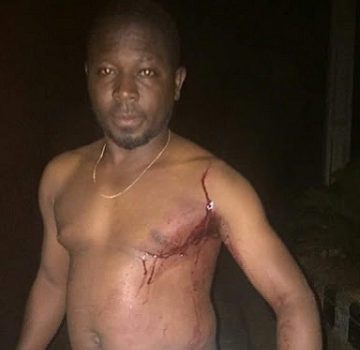 28-year-old Yewande Oyediran (nee Fatoki), a lawyer with the Oyo State Ministry of Justice who is standing trial for allegedly causing the unlawful death of Lowo Oyediran, her 38-year-old husband, on Monday, informed the court that a phone call from her deceased husband's 'baby mama', Rachael Jegede, on February 1, 2016, led to the last fight before Lowo's death.
Yewande, who was giving testimony as the seventh defence witness to clear herself of the allegation of murder in the ongoing trial before Justice Munta Abimbola of the Oyo State High Court 1, sitting at Ring Road, Ibadan, added that Rachael's call that day was the fourth call she would receive from her, after the first one she received from her on July 7, 2015.
The defendant while being led in her examination in chief by the lead defence counsel, Leye Adepoju, informed the court that Lowo under normal circumstances is a quiet, shy and reserved man, adding that when he drinks however, he becomes super excited, exhibits sudden boldness that is not his usual attitude, gets angry easily and this made him to be violent on occasions.
Further in her four hours' testimony, Yewande stated that all was well between her and her husband and they went through their normal activities until around after 10 in the night when she received a call from an obviously Rachael, accusing her of not allowing Lowo take care of her and her son, adding that she went to Lowo in the room to complain since she had earlier told him to stop Rachael from calling her.
"When she called that night, she sounded angry and was ranting; accusing me of not allowing my husband to take care of her and her son. I switched off and went to meet my husband in the bedroom; he was lying on the bed with his phone. I called him, Lowo, you promised that this lady will not call me again. She just called now and was insulting me. He just got up from the bed and was very angry and was asking me, what is wrong with you? What is your problem? What exactly do you want? He started beating me and we were struggling, he held me to the ground while I was screaming for help.
"My landlord and the landlady were banging the entrance door but couldn't gain entrance because the door was locked. I tried to get up but he overpowered me; I scratched and hit his back but it had no effect and he refused to let me go. So I stretched my hand towards the dressing table and picked the first thing my hand touched, a scissors, I used it to injure him and that was when he let go," she said.
Yewande explained further that she told the landlord and his wife what happened, but she and Lowo didn't tell them what led to it though she eventually told the landlady who told her she does not want to hear any noise as they would resolve the matter in the morning, but told her not to lock the door again. Thinking all was over, she went to sleep beside her husband on the bed.
"I was fast asleep when I felt someone beating me and I opened my eyes to see it was my husband beating me with a plank. I tried to get out of bed, but he will push me back and beat me with the plank. I was begging him because I didn't want to make noise. Suddenly, I saw a knife with him and he said you injured me earlier, you too will know how it feels to be wounded with a sharp object, I continued begging and moving out of the room with my back.
"He was following me and asking where I was running to and by the time we got to the sitting room, he pushed me aside and removed the key from the front door without checking if it was locked, then asked how I will be able to escape. I opened the door and ran out, he charged after me and pulled me back with my braid. We struggled with the knife on the veranda and I escaped, he caught up by the fence and we continued struggling with the knife until he had me pinned to the landlord's car," she stated.
She explained that they were struggling with the knife while she continued shouting for help and it was already putting marks on her before she felt herself suddenly freed by the landlord and she ran towards the house and Lowo was coming too but she couldn't hear what he was saying. She said she kept running, adding that Lowo was in front of the landlord's door when he suddenly fell and she ran towards him and saw blood coming out from his neck.
She stated that after they took him to the clinic, she couldn't explain what happened again as she only became aware of herself at the state CID, but said the knife and fork in the exhibits were not the ones from her house. Also, she claimed her husband's family members took things away from the house when the police came to the crime scene, but agreed that there was no one around while they were struggling with the knife and only two of them slept in the apartment that night.
With her testimony, the defence closed its case and the matter was adjourned till July 10, 2017 for adoption of written addresses.