Leadership Sustainability: Seven disciplines to achieve the changes great leaders know they must make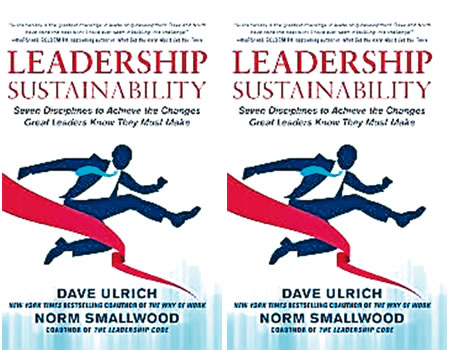 Leadership Sustainability helps you turn good intentions into effective actions by mastering seven critical disciplines as follows: simplicity: focus on the few key behaviors that will have the most impact; time: allocate your time so your calendar matches your intentions; accountability: take personal responsibility for doing what you say you will do; resources: support your leadership with effective, ongoing coaching and HR systems; tracking: develop metrics for measuring your leadership improvement; melioration: learn from your mistakes and demonstrate resilience; and emotion: draw on deep personal values to keep yourself motivated.
The entire book discusses the following aspects in detail: simplicity, time, accountability, resources, tracking, melioration, and emotion. Chapter 1 goes into more depth on the need for leadership sustainability and explores how it complements our journey of leadership insights.  Chapter 2 addresses the importance of focusing on the key behaviors that will make the most difference to the most important issues. The world is increasingly complex as technology makes global events local news.  Chapter 3 focuses on leaders passing the calendar test. It takes up the question of the allocation of days, hours, and moments. The authors often ask leaders we coach to tell us their priorities, which most can do. Then we ask them to review their calendar for the last 30 or 90 days and show us how much time they spent on these priorities-an exercise that often reveals unnerving gaps between intention and reality.  Chapter 4 discusses the clear benefits of accepting responsibility and holding yourself and others accountable for keeping promises. A cycle of cynicism occurs when leaders announce wonderful aspirations (e.g. vision, mission, and strategy statements) but fail to deliver.
Chapter 5 focuses o the specific resources of coaching and HR infrastructure that leaders can enlist to support their desired changes and build an infrastructure of sustainability. A mix of self-coaching, expert coaching, peer coaching, and boss coaching can be woven together to resource sustained change. HR practices can define and create an organization's culture. Selection, promotion, career development, succession planning, performance review, and communication policies can be aligned with organization design to support leadership change.  Chapter 6 returns to some wise old sayings: You get what you inspect and not what you expect; you do what you are rewarded for (and so does everyone else): and you shouldn't reward one thing while hoping for something different.
Chapter 7 introduces a new term for actions and attitudes designed to make things better. Leaders meliorate when they improve by learning from mistakes and failures and demonstrate resilience. Change is not linear. We don't often start at point A and end up in a logical and smooth progression at point.  Chapter 8 addresses the value of emotion, pointing out that leaders who sustain change have a personal passion for the changes they need to make. Sustained change is a matter of the heart as well as the head; it needs a strong emotional agenda and not simply an intellectual agenda, however logical and cogent it may be. Action without passion will not long endure, nor will passion without action. Leaders ensure emotion by drawing on their deeper values and finding meaning in the work they do. Leadership sustainability occurs when leaders not only know but also feel what they should do to improve. This passion increases when leaders see their desired changes as part of their personal identity and purpose, when their changes will shape their relationships with others, and when their changes will shift the culture of their work setting. Chapter 9 introduces an application audit to apply these disciplines to sustain their leadership progress.
The book describes Doris Goodwin Kearns' studies on the unique leadership style of the renowned American president Abraham Lincoln. He had a knack for gaining emotional support not only from his allies but also from his enemies. She identified eight emotional strengths he possessed:
Empathy. He was able to put himself in the place of others so that he could appreciate their point of view.
Humor. He told great stories to illustrate his beliefs, and he often used self-deprecating humor to connect with others.
Magnanimity. He forgave others and he was not likely to hold grudges.
Generosity of spirit. He was willing to publicly take the blame when things went wrong, and he admitted mistakes openly and honestly.
Perspective. He put events and activities into context rather than being overwhelmed by an individual event.
Self-control. When frustrated, he would write letter to himself and then tear them up. He thought and reflected before he acted.
Sense of balance. He was able to take time to relax, entertain friends, and let go of the stresses of his office.
Social conscience. He frequently looked for opportunities to serve and work for others.
Leaders who not only recognize their personal emotions but also use their emotions to connect with others are more likely to sustain their desired changes.