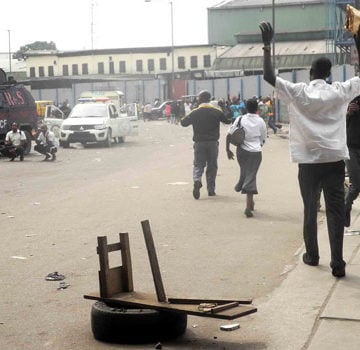 THE Lagos State Government has suspended the activities of the National Union of Road Transport Workers (NURTW) at Oshodi and its environs, over the recent assassination of one of the union members.
Prince Lanre Elegushi, the Acting Commissioner for Transportation, announced this on Monday at a news conference at Ikeja.
Elegushi said that all union activities in the seven branches of the union affected by the crises have been suspended indefinitely.
"This order follows the continued violence that attended the death of Alhaji Rasaq Bello, a leader of the Motorcyclists Operators Association of Lagos State (MOALS), an affiliate of the NURTW at Shogunle area of Oshodi.
"While this order lasts, there will be no collection of tickets or fees from commuter buses operating in the area,'' he said.
Elegushi said that a team of state government officials and security personnel had been mandated to oversee and monitor the activities of the transport operators within the seven branches.
The acting commissioner said the union should not to collect any tickets or fees from transport operators therein.
He said that the suspension would remain until peace and tranquility returned to the area, based on security reports.
Elegushi said police investigations were ongoing over the murder of the union leader, adding that any person found culpable would be prosecuted in line with the dictates of the law.
"It is important to also emphasise that all rumour mongering, insinuations and unfounded facts should be avoided, for the sake of peaceful co-existence.
"Any escalation of the crisis arising from the ban will lead to government taking sterner actions against the branches where violence is recorded,'' he said.
In his response, Alhaji Tajudeen Agbede, Chairman NURTW, Lagos State, said he supported the suspension, pending the period when peace and tranquillity would return to the area.
Agbede said that the government had taken the right step to ensure peace in the community.
The chairman also advised union members in the area to embrace peace and shun any form of violence that might arise as a result of the suspension.
The News Agency of Nigeria (NAN) reports that Bello, popularly called 'Hamburger', was allegedly murdered on May 29, during the primary election to pick a councilor for Shogunle Ward E1.