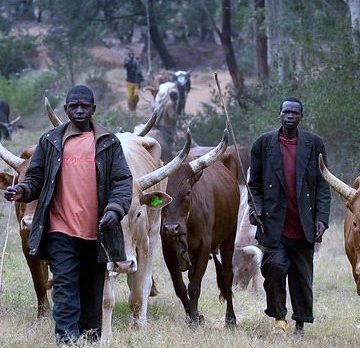 THE Yoruba speaking Okun people of Kogi state on Monday rejected the proposed cattle colony in the state, saying there was no land for such venture in the area.
The people, who spoke under the aegis of the Okun Development Association (ODA), the umbrella body of groups in the area, said none of the six local government areas occupied by the Okun people was available for cattle colony.
The people in a communiqué signed national president, Chief Femi Mokikan and the national secretary, Pastor Ayo Abereoran, said the proposal was "repulsive and repugnant to equity, fairness and natural justice."
The Okun people of Kogi state can be found in Kabba-Bunu, Ijumu, Lokoja, Yagba West, Yagba East and Mopamuro and Oworo land of Lokoja local government area.
The people said the federal and the state government should bury the idea of using their land for Fulani cattle colony saying "any proposal to appropriate our land for the promotion of the private business interests of Fulani herdsmen would deny us our right to our ancestral land and would amount to an avoidable time bomb".
The ODA said the proposal was unacceptable as it would amount to a disservice to the people's past, present and future and was as such unacceptable.
The association said,"described in whatever way, the document said the cattle colony was distasteful, dangerous and with a huge potential to snowball into a major national disaster".
It said cattle rearing was a private business and that the nation's statutes had adequate provisions guiding the way owners should conduct their businesses.
"The cattle colonies were a thinly veiled way of subsidizing the private businesses of herdsmen", said the ODA.
The ODA said experience in the past had shown that most of the herdsmen in Okunland had at will and usually unprovoked, attacked their hosts, adding that this was because of the general belief that they were emboldened by the tacit support they seemed to enjoy in certain official quarters.
The group lamented that farmers in the area had almost abandoned farming for fear of attacks by herdsmen because of the threat posed by the herdsmen.
The ODA said instead of the cattle colony, the government should revive the old cattle ranches advised and encourage herdsmen to set up similar ones for their use.
It added that such step would reduce tension between the herdsmen and farmers, encourage the establishment of allied industries to produce cattle feeds and promote the application of modern technology.