Kenya, Uganda, Rwanda, global speakers for NANTA 44th AGM in Kano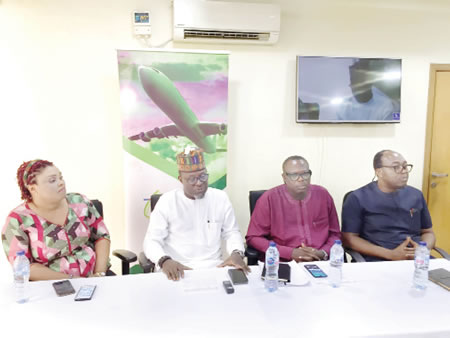 PREPARATIONS are in top gear as top global industry experts from within and outside Africa have been confirmed to attend the 44th elective Annual General Meeting (AGM) of the National Association of Nigerian Travel Agencies (NANTA) slated to hold in Kano from March 25 to 27 2020.
The president of the association, Mr Bankole Bernard who disclosed this to journalists at NANTA office in  Lagos recently said the elective AGM billed for Kano is a deliberate attempt by the association to promote the rich tourism potentialities of the state to the world as safe destination to visit viz-a-viz boost the businesses of members. The AGM with the theme: National carrier – A remedy to sustain tourism development and revenue generation will also be looking at the role of the Aviation industry in Nigeria's economic development and the impact of technology on the nation's travel business and emerging tourism sector.
"Our AGM has been carefully programmed to be an informative and insightful gathering, discussing industry matters that must drive the process of immediate and future engagements. We went global in search of platforms to engage other deep facilitators within our trade environment, thus bringing "Nigeria into focus and recognition by the global industry influencers.
"From Kenya, South Africa, Ghana to Spain, Germany, Turkey and other parts of Europe, NANTA under my watch carefully re-engineered the fertilisation of global relationships which today has made Nigeria a destination to watch out for."
APC Crisis: Buhari's Ministers, South south leaders pick Oshiomhole's replacement
NANTA boss explained that as drivers of the downstream sector of the aviation industry and critical facilitators of tourism end posts, they will look at how tax policies affect its interventions and presence, with a view of birthing new narratives on its pioneering engagements and ability to generate visible employment profile, given a workable tax regime with a human face. Bernard explained that though they are yet to get the full empowerment of their various interventions, they are happy that NANTA members are no longer seen as fly-by night operators, but serious professional contributors to the GDP and growth of the national economy.
He disclosed that the AGM will feature a keynote address on 'National Carrier: A Remedy to tourism and economic development' by Mr Sunil Kumar R, President United Federation of Travel Agents' Associations, (UFTAA) and panel discussion on the 'Revenue Generation Potential of a National Carrier' with Mr Sunil Kumar of UFTAA, Mrs Firiehiwo Mekonnen, Ethiopian Airlines general manager, Nigeria, Mr Dusan Kostic, director , Europe Region & Global Delivery Centre, Madrid, Spain, Mr Gilbert Yann, general manager, Amadeus Nigeria and Mr Hassan Musa, Permanent Secretary , Federal Ministry of Aviation as Panelists. Other topics to be discussed at the AGM include, 'Technology Hub: Cyber Threat/Crime- The danger for the industry' by Mr Tokunbo Taiwo, Group Chief Technical Officer, Digital Jewels Limited, Lagos and the 'Role of Aviation industry in Nigeria's Economic Development, by Dr Gbenga Olowo, President, Sabre Network West Africa among others.
Speaking on the present global down turn of business caused by COVID-19, Bernard said the outbreak of the disease has affected their travel business negatively accounting for about 15 to 20 per cent slump in their international bookings.
He added that NANTA supports the systematic approach of the health organisation and the aviation agencies at the nation's airports in respect to coronavirus and other health related matters ravaging the world.
NANTA president also commended the airlines for standing strong at a period like this despite operational challenges initiated to address and halt the spread.
Bernard who also spoke on his achievement in the last four years said as president and team leader, he has roused NANTA with his team from near death and gave it vision and aspiration that has restored the dignity and future for travel trade professionals which has kept the entire tourism and travel sector in focus.
"We have been able to bring sanity to the membership of NANTA through the introduction of the NANTA Identity Card. This move has been able to differentiate the grain from the shaft in the Travel industry because through the ID card scheme, some persons have been arrested on account of fraud."
Asked of the number of members presently subscribed to the NANTA ID, Bernard disclosed that "1,600 members have been given the ID card, according to him, though that number may be small compared to the number of NANTA membership but we want to tell you ithat the process
is gradual and will get there.
"Apart from that we are also working on the NANTA bill; a strategic move which when approved will position NANTA better." Bernard explained that as a team, they have sought and created partnerships across board, from the airlines, trade facilitators, GDS, state, Federal Government and other relevant agencies that helped the association's sustainable and innovative drives.