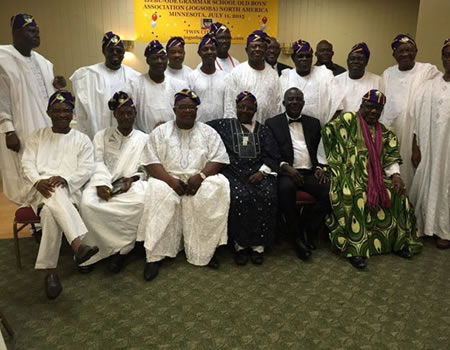 The Old Students Association of Ijebu -Ode Grammar School (JOGSOBA) is set to construct a N250 million naira Information and Communication Technology and cafeteria for their alma mater.
This was disclosed by the National President of the association, Engr. Ebenezer Osoba, at a news conference to herald the celebration of the school 105th Founder's Day,  held at the secretariat of the association in Ijebu -Ode.
Osoba flanked by its vice/chairman of the 105th celebration, Chief Segun Timi and the National Public Relation Officer, Gbenga Omilola, said the project was conceived to enhance effective teaching and learning of ICT.
He said that the centre on completion would comfortably seat 200 students with modern ICT equipment while the cafeteria accommodates 750 people.
Osoba noted that JOGSOBA in the years past had continued to provide the necessary infrastructure for the development of the school, saying that the rationale behind this gesture was to make the products of the school more relevant to the development of the country.
He said the school which is the oldest secondary school in Ijebuland, had produced many great Nigerians such as the former United Nations Secretary-General, Prof. Adebayo Adedeji, the current High Commissioner to the United Kingdom, Justice Olusola Oguntade, late Ambassadors Olu Adeniji and Gbenga Ashiru among other eminent personalities in the country.
The JOGSOBA national president seized the opportunity to advocate for the reversal of boarding system in the school.
He explained that boarding system brings about a total child in the students,  hence the resolve of the old boys to renovate the boarding facility in the school.
Osoba lamented that government is not doing enough in the area of education considering the amount of money allocated in its yearly budget for the sector.
"We are not getting the best out of the students any longer because the boarding system is no longer there.  We have resolved to make sacrifices having discovered the lapses by contributing our quota to the revival of boarding system in this school.
"Ijebu Ode Grammar School is the oldest secondary school in Ijebuland. As old boys, we are proud of our heritage and that is why we have been promoting the ideals and ideas of the founding fathers.
"We"ll continue to make the school one of the best in Nigeria. The school has produced people of integrity and ones that have made landmarks on their various professional callings," he said.
The celebration programme kicked started with awareness walk around the town on Wednesday, inter-house sport competition today (Thursday), Jumat Service on Friday, the turning of the sod on Saturday which is the Founder's Day and award ceremonies while thanksgiving service will hold on Sunday at the Holy Trinity Anglican Church, Ijebu -Ode.