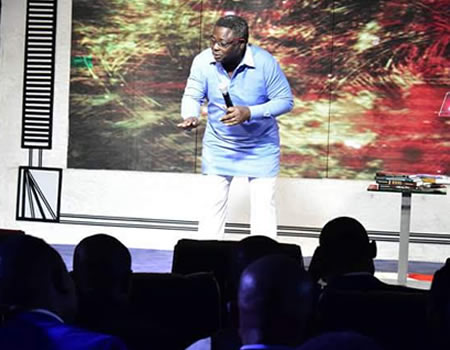 Popular Nigeria-born pastor and televangelist, Pastor Matthew Ashimolowo has disclosed that he has dolled out at least 37 cars in the last three and a half years in his personal capacity.
The founder and 
Senior Pastor of Kingsway International Christian Centre (KICC) London 
made the disclosure at the ongoing 2017 Economic Summit of the Master's Place Int'l Church (TMP) at Effurun-Warri, Delta State.
This is coming on the heels of a barrage of accusations predominantly on the social media that most men of God corner tithes from their congregations for a private ostentatious living while abandoning the indigent to wallow in want.
The renown prosperity preacher, while teaching on 'Becoming a Financial Giant,' theme of the summit, said two of the 37 cars were Hummer Jeeps.
He decried the level of ignorance being perpetuated by such critics, whom, he said, should understand that every kingdom has its culture, protocols, rules, and regulations guiding its activities and mode of operations.
Ashimolowo, whose 'His Winning Ways' programme is aired daily on Premier Radio (London), Spirit FM (Amsterdam) and on television in Nigeria, Ghana, Zimbabwe, Europe as well as local radio stations across Nigeria, disclosed further that KICC Maryland and KICC London pays N50 million each on Channels Television annually to reach out to lost souls for Christ.
The KICC Senior Pastor enjoined Christians to invest in real estate, particularly land, saying land has the value of being bequeathed to generations unborn.
Underscoring the benefits of acquiring land ahead of clothing, the Osun State-born Ashimolowo stated that lands appreciate but buildings do not; land was the first thing God gave a man; God gave man land to perpetuate wealth, and the ownership of land is a sign of blessings from God, among others.
He, however, warned Christians to stop wasting their finances on frivolities such as Ponzi schemes, forex tradings, blind donations to faceless imposters of men of God on the social media and other fraudulent ventures.
"Don't let lack push you into seeking quick moneymaking ventures and credit card borrowing," he warned.
The Economic Summit 2017 is a three-day annual event which started 
on Friday
 and initiated by the presiding pastors of TMP, Korede and Esther Komaya.
---
---