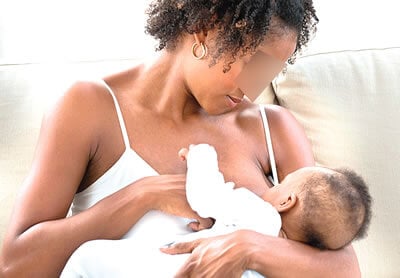 Nothing can compare to the joy of a new baby and the intimacy of nurturing and providing food and comfort. Moreover, experts, in this report by SADE OGUNTOLA, say that exclusive breast milk has no substitute for beautiful, healthy young children.
For Mrs Mary Igwe, a 38-year-old mother of twins, her promise is to breastfeed her twins until they are two years old. With one strapped to her back, she walked into the Oranyan Primary Health Care Centre, Ibadan to have her babies vaccinated.
"My babies are three months old, but only took infant formula a few days after they were delivered because I was really weak to properly feed them.  But now, they only take breast milk," retorted Mrs Igwe.
Mrs Igwe story is familiar to many new mothers. In Nigeria, a majority of mothers plan to breastfeed, but about a large proportion end up supplementing within days of giving birth with infant formula.
Some end up supplementing with infant formula within two months because they have to resume at work though they may not be producing enough milk, normal newborn behaviours are misunderstood, believe that breastfeeding will make their breast sag and aggressive marketing of breast milk substitutes (BMS).
Breastfeeding is a natural and critical act that provides nutrients and energy for the infant and young child; and through a public health intervention such as exclusive breastfeeding, it improves the survival rates of the infant.
The benefits of breast milk extend beyond nutrition. That is the main reason why paediatricians and nutritionist recommend that nursing mothers should let their baby have breast milk exclusively up to six months.
However, this is not always the case in real life. Its practice has remained low despite the high levels of awareness of exclusive breastfeeding.
In Nigeria, awareness of exclusive breastfeeding was 98 per cent but exclusive breastfeeding rate is coming down, it is now 23.7 per cent and in some places, it is less than 16 per cent, said Dr Tamramat Runsewe-Abiodun, a consultant paediatrician at the Olabisi Onabanjo University Teaching Hospital, , Ogun State.
Exclusive breastfeeding is defined as the consumption of no other food or liquids except breast milk and drops or syrups consisting of vitamin-mineral supplements or medicines for at least the first six months of life.
She declared, "Usually by the time the children are about 12 months, many stop breastfeeding on the average. And what National Agency for Food Drug Administration and Control (NAFDAC )is preaching now is that it should be taken to three years. So we need to step on it and close up the gap because marketers of BMS are exploring that gap."
Ironically, many nursing mothers thinking is that infant formula is an alternative to breast milk. "Ordinarily, mothers assume that infant formula is close to breast milk, it is not the same as breast milk. It is not a substitute or equivalent to breast milk. Its nutrient content differs from that of human milk," said Dr James Oloyede, Director, Nutrition services and education, State Primary Healthcare Board, Osun State.
Overall, cow's milk (or evaporated milk) is simply too different from human breast milk to be suitable for human infants. It contains three times the protein of human milk, less carbohydrate and lower levels of a range of vitamins (vitamins A, C, D, E, niacin) and iron.
Apart from the nutritional differences between infant formulas and breast milk, infant formulas lack so many immunising factors and anti-infective agents which is the first point of contact for immunising the child when he is born.
Also, infant formula is homogenous in composition, meaning the last sip the baby takes is the same as the first sip. In contrast, breast milk is a dynamic, bioactive fluid that changes in composition from the colostrum produced at birth to the milk produced in later lactation. Breast milk composition also varies during feeds and across the day.
According to Dr Oloyede, breastfeeding is natural and its nutrients composition is well suited and adapted for the growing infant.
"If a child is exclusively breastfed for the first six months of life, the chances of that child surviving is 13 times than the child fed on infant formula.
"Studies and experience on the field have shown that when children are breastfed, their growth and development are very good; they are less prone to what we call diet-related non-communicable diseases in adult life.
"It also improves their cognitive ability, thereby improve their learning achievements in future because they possess higher Intelligent Quotient (IQ)," he added.
Introducing infant formula, he said infant formulas contain substantially more protein than breast milk and its increased protein content promote increased rates of obesity in formula-fed children.
It also increased their risk of a variety of illnesses, including sudden infant death syndrome, asthma, diabetes, and many types of infections like diarrhoea and pneumonia.
Diarrheal diseases and resultant dehydration are a leading cause of death in infants in poor countries, where breastfeeding may be lifesaving.
Feeding the baby breast milk substitutes can be expensive and particularly risky if parents cannot afford to buy enough of a quality breast milk substitute.  And that is not even exploring the many sustainability issues with the formula: plastic bottles, exposing babies to chemicals like BPA, or the untold energy used to manufacture, ship and prepare formula.
"So there is no alternative to breastfeeding. And that is why even in advanced countries, they encourage wet nursing so that all babies will not miss out on the benefits of breastfeeding even if their mothers had died during childbirth or other condition," he added.
But Mrs Ada Ezeogu, UNICEF's Nutrition Specialist, Akure Office, said most times, because of aggressive marketing of breast milk substitutes, mothers are usually made to have an erroneous belief that infant formula is an alternative for breast milk. And this is contrary to the International Breastmilk Substitute Code that emphasises on protection, promotion and support for exclusive breastfeeding.
According to Mrs Ezeogu, "we know that breastfeeding is the best food. In fact, it is the golden standard of feeding infants from zero to six months because it provides all of the nutrients that the child requires for growth and development.
"Yes, it is true that the infant formula producers have tried to produce milk that is as close to breast milk as possible, but it is not the same. It does not still meet the same standard as breast milk."
Mrs Ezeogu declared that breast milk substitutes promote a vicious cycle of malnutrition and infections in infants, adding that to break that cycle, nursing mothers need to ensure that they exclusively breastfeed their babies in the first six months of life and thus increase their chances of survival.
Although there are still situations where breast milk substitutes may be required, she said the code that guides breast milk substitutes marketing still allows it to be sold in open markets, but that mothers should not be coerced into buying them under any circumstances.
Nonetheless, she said protecting, promoting and supporting exclusive breastfeeding starts with ensuring nursing mothers initiate breastfeeding immediately after birth, adding that breastfeeding support in the early days can make the difference in achieving optimal breastfeeding.
Obviously, much more than financial investment is needed to increase the prevalence of breastfeeding. It's essential that there be coordinated, evidence-based, and sustained global and national efforts involving the public and private sectors as well as the advocacy, policy, and technical communities to ensure that breastfeeding will become the norm.
---
---