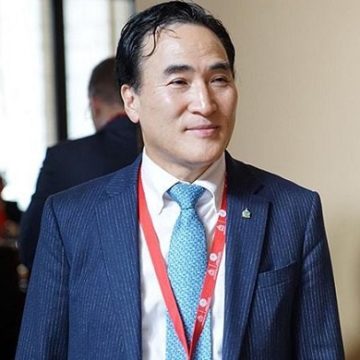 International police body Interpol elected Kim Jong-yang of South Korea as president on Wednesday, beating a Russian national whose candidacy had raised concerns in Europe and the United States about the risk of Kremlin interference.
Russia said clear outside pressure had been exerted on the vote but it did not dispute the voting process.
Interpol member states, meeting in Dubai for their annual congress, elected Kim to succeed China's Meng Hongwei, who disappeared in September and later resigned after Chinese authorities said he was being investigated for suspected bribery.
Interpol, whose role is to facilitate cooperation between police forces around the world, said on Twitter that Kim, who had been serving as acting president, had been elected for a two-year term. The presidency, a largely ceremonial role, is typically held for four years.
ALSO  READ: Trump arrives in Singapore ahead of historic North Korea summit
Interpol later said Kim was completing the term of former president Meng, which was due to end in 2020.
Reuters reported Meng has not been seen since he disappeared during a trip to China from where he sent a letter to Interpol announcing his resignation. Days after his wife reported him missing, Chinese authorities said he was under investigation.
"Our world is now facing unprecedented changes which present huge challenges to public security and safety," Kim said in a statement.
"To overcome them, we need a clear vision: we need to build a bridge to the future."
Day-to-day work is handled by Secretary-General Jurgen Stock of Germany, but the president still commands influence.
ALSO READ: Poor forest management for fires, cause of deaths in California ―Trump
The candidacy of Alexander Prokopchuk of Russia, a police major-general and one of Interpol's four vice-presidents, led to concern in Europe and the United States about the possibility of Russia being able to exploit Interpol's power.
Commenting on Wednesday's election, Kremlin spokesman Dmitry Peskov told reporters: "We regret that it wasn't our candidate, but nonetheless there are no grounds to disagree with the election result."
Prokopchuk declined immediate comment.
Interpol's charter forbids it from involving itself in disputes of a political, religious or racial nature. It is not a supranational police force and has no agents who are allowed to make arrests.
South Korea's President Moon Jae-in congratulated Kim on becoming the first South Korean to head the organization.
"We're very proud. I, together with our people, am sending congratulations," Moon wrote on Twitter.
The United States said on Tuesday it supported Kim to lead the agency after a group of US senators accused Russia of exploiting the global body to settle scores and harass dissidents.
Pacific island nations Vanuatu and Kiribati were approved this week as new Interpol member countries, while Kosovo's bid was denied, bringing the total number of member states to 194. A number of countries including Serbia do not recognize Kosovo's independence from Belgrade, declared in 2008.