International Women's Day: No laughter yet for Nigerian women
As the world commemorates the International Women's Day today, IMOLEAYO OYEDEYI reports that 25 years after the Beijing Declaration and Platform for Actions, the spate of sheer discrimination and denial of basic rights against women still remains unabated as the Nigerian National Gender Policy of 35 percent affirmative action has failed to materialise.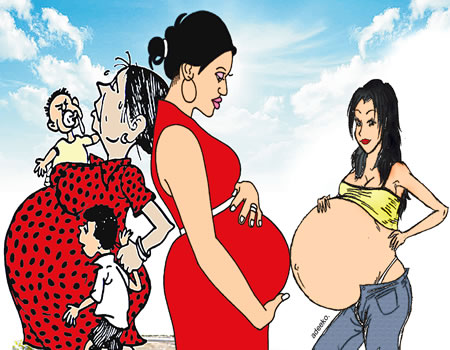 AT 15, Seun Omotayo (not real names) has endured an excruciating experience in life, undoubtedly beyond her age. In normal circumstances, girls within her age bracket are probably preparing for university matriculation examination or on the verge of writing their senior secondary school certificate examination. But she is not at any of these two stages of educational development due to no fault of hers.
At a very early stage in life she had lost her mother, her father who should have been a source of succor for her turned out to be a callous man.
"I lost my mum at age eight and since her demise life has been very terrible for my sisters and I. Despite not providing anything for the family since he lost his job, my dad often beat my mum in our presence even when she was pregnant. I can even say he was the cause of my mother's death because she died while carrying his baby due to lack of adequate care.
"In fact, on the day my mother passed on, she died in my arms. I was inside the toilet that afternoon, when I heard my mum shouting. I quickly rushed out, picked her phone and called my dad, but he didn't pick his call. I called him several times but he refused to pick his phone. Being a young girl, I don't know what to do. I was helpless as there was no one in the building to help me. Suddenly, my mum started breathing heavily and before I knew what was happening, she died. I wept bitterly that day. It's been about seven years now but the shock still grips me each time I remember.
"After my mum died, I thought my dad would take up the responsibility but I was wrong. Instead, he took another wife barely four months after my mum passed on. And the new wife made life unbearable for my two sisters and I. It got to a point that I had to run away from home to stay with one of my uncles hoping life would fare better. But it got worse as my uncle raped me at age 10.
"I couldn't tell his wife because he had threatened to kill me if I ever try to voice out. Since my mum died, I had stopped school at primary five as my dad said he had no money to fund my education. He couldn't even help me complete my primary education. I thought my uncle would help me continue, but he also refused. Instead, he turned me to his house help and would sleep with me each time his wife was away from home.
Seun said having had to go through so much, she had to rely on other people outside her core family members for support. One of such was the young man living in her neighbourhood who she claimed took advantage of her situation and on the pretext of assisting her got her impregnated. She was 13 years old.
"You won't believe that the man denied ever having anything to do with me. At that point, I knew my world has crashed. Instead of fighting for me, my wicked uncle chased me out of his house. That was how I came to live with this aunty who took pity on me. Since I delivered my son, Aunty Yetunde has been taking care of me despite being a student at The Polytechnic, Ibadan. If my mother hadn't died, I am very sure I wouldn't have gone through the life-draining experience at the hands of wicked men," she explained to Sunday Tribune.
The sad experiences of Seun, who resides at Ijokodo area of Ibadan, and her mother, paint vivid pictures of the dreadful experience that women, both old and young, go through on daily basis.
When laws discriminate against women
According to the United Nations, "multiple obstacles daily confront women in their plight for equal right with the men folks. Women and girls have continued to be undervalued; they work more and earn less and have fewer choices. They also experience multiple forms of violence at home and in public spaces' as if the world has been created for only the male gender."
The Wikipedia records that "about 25% of women in Nigeria have experienced forced sex at the hands of either their current partner or a former partner while the 2008 demographic and health survey also showed that over 30.5% of married women have experienced at least one or more forms of physical, emotional or sexual violence in their marriage."
Women have been largely victimised by different culture not only in Nigeria but also across most of the developing world, and the national laws haven't helped them either. According to the Wikipedia, "the provision of the Penal Code applicable in the Northern part of the country specifically encourages violence against women as its section 55 (1) cites the beating of a wife for the purpose of correction as legal."
In May, 2013, the National Assembly passed a bill to reduce gender-based violence, yet, it hasn't got senate approval almost seven years after.
"Even when women are being abused or murdered and they take the matter to court, they still don't get justice. A vivid example is one of the wives of a traditional ruler in Akure who was allegedly killed in 2010 by the monarch. It raised public outcry and the police promised to press necessary charges. But the case was dismissed two years after while nothing was done to the man. This is the world we found ourselves,' said a young female right activist in Lagos, Titilayo Olowookere.
As a way of limiting the prevailing discrimination against the female gender, the United Nations has held several world conferences on women rights but it was the fourth one held in Beijing in 1995 that set a global agenda for gender equality.
A world against women?
However, nearly 25 years after the Beijing Declaration was adopted, a legal practitioner and former chairperson of Oyo State branch of the International Federation of Women Lawyers (FIDA), Mrs Yetunde Adegboye is of the view that nothing has changed dramatically.
'It is most unfortunate that women all over the world are still being undervalued at varying degrees. In all fields of endeavour, women, whether in politics, public service, research institutions and even the academia, women have continued to struggle to be on equal pedestal with their male counterparts even where the academic qualifications and skill set are comparable.
"The situation of women is sad but not really surprising because in most cases the assessors and those who determine the progress and elevation are dominated by men and majority of them are fixated by the erroneous impression that women are inferior to men.  Compared to  time past when majority of women were relegated to the background, much has been achieved but we are yet to be where we want to be in terms of gender equality. What many of us are advocating is equity that is free from prejudice and biases and not necessarily the lowering of standard to accommodate the female folk."
Corroborating Adegboye's viewpoint, the incumbent chairperson of the association in Oyo State, Mrs Oluyemisi Collins said: ''Every human right enshrined in the Nigerian constitution is supposed to be enjoyed by the women too. Most of the rights that women complained of being denied relate to their marriage rights and equity at workplace as there are companies who still don't employ women simply because of their maternity and child-bearing. In terms of our gender equality movement, I don't think we have achieved much perhaps because the gender equality bill hasn't seen the light of the day. As expected, women are yet to be given their deserved percentage in our economic and social life.
"Meanwhile, our society needs to move away from its age-long headlong beliefs that women's place is tied to the kitchen. The world is a global village now and our women shouldn't lag behind in the spate of development. We need more enlightenment and sensitisation. Presently in Oyo State, we have the Violence Against Women law which we at FIDA have been promoting to let both men and women in the state know that every aspect of abuse meted on the women folks will now be punished severely."
However, for the Oyo State coordinator of the National Human Rights Commission (NHRC), Mrs Oyindamola Bamgbose, the rights to education and good healthcare are the major rights women are being denied, especially in Nigeria.
'Women's rights are human rights and one of the most important of them is rights to education because when you are educated you have access to basically everything. Also, there is right to health but sadly, most women in Nigeria don't have access to good quality healthcare.  I believe these two are the basic human rights and as humans, women should not be denied of them,' she said.
She stressed that many women need to be enlightened and properly educated on issues regarding their fundamental human rights as public enlightenment is key to the awareness of constitutional rights.
"On our part, we have been addressing these issues through our radio programmes and talk shows as we are mandated to work with institutions and non-governmental organisations (NGOs) and advise them on policy making which we have been doing but not getting the desired feedback from Nigerians," she noted.
Activist and President of Women Arise, Dr (Mrs) Joe Okei-Odumakin is also not happy that women are being denied their rights even to participate actively in politics making their presence in that area is very low.
"The national average of women's political participation in Nigeria has remained 6.7-11 percent in elective and appointive positions, which is far below the Global Average of 22.5 percent, Africa Regional Average of 23.4 percent and West African Sub Regional Average of 15 percent.
"Out of the 36 recently confirmed ministerial appointments by the administration now in power in Nigeria, only seven are women, representing 19.4 percent. In the National Assembly, women constitute 5.6 percent of members of the House of Representatives and 6.5 percent of the Senators. Also with the twenty years of uninterrupted democratic governance (1999-2019), Nigeria has produced two female governors in the 36 states of the Federation, namely Anambra and Taraba states. The Anambra State woman governor served for three months while Taraba's was reversed by the court."
Lending her voice to the women in politics argument, Adegboye said: "women's participation in politics and government decision making is fundamental to inclusive governance without which good governance is possible. No country can progress or prosper if half of its citizens are left behind or treated as mere subjects of the realm. Therefore, women must be encouraged to participate in politics."
She further cited economic and socio-cultural factors as reasons for women's low participation in Nigerian politics, adding that "despite having the resources, sadly, women are still being sidelined. Our culture has also not helped either because it has tied women to certain things in the society."
In view of the domestic and sexual violence suffered by women Odumakin advised women to stay out of harmful relationships as the right to life is the hallmark of a healthy relationship, adding that "Our girls must be properly taught on sex education. They must know what parts of their body is known as 'private' part. They must equally learn how to speak up when being sexually harassed or abused by anyone in the family or society at large."