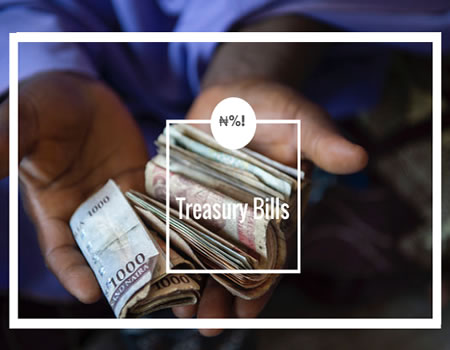 THERE are high expectations that maturing treasury bills worth N473.40 billion will lead to moderation in interbank rates this week.
According to dealers from Cowry Assets Management Limited, although the Central Bank of Nigeria (CBN) will be poised to mop up excess liquidity via Open Market Operation (OMO) sales, "we expect ease in the financial system liquidity to be sustained with resultant moderation in interbank rates."
Also, the CBN will sell T-bills amounting to N33.38 billion via the Primary market; viz: 91-day bills worth N3.38 billion, 182-day bills worth N10.00 billion and 364-day bills worth N20.00 billion.
"We expect higher stop rates for all maturities amid heightened political uncertainty," the firm's dealers noted.
Similarly, the Debt Management Office (DMO) will issue bonds amounting to N90.00 billion viz: 12.75per cent FGN APR 2023 (5-Yr Re-opening) worth N25 billion, 13.53 per cent FGN MAR 2025 (7-Yr Re-opening) worth N25 billion and 13.98per cent  FGN FEB 2028 (10-Yr Re-opening) worth N40 billion respectively. "We expect the bonds to be issued at higher stop rates in order to attract foreign portfolio investors. At the secondary market, we expect FGN bond prices to rise (with corresponding decrease in yields) at the Over The Counter (OTC) market amid expected ease in financial system liquidity," the firm noted in a note to clients.