INEC expresses concern over court cases by political parties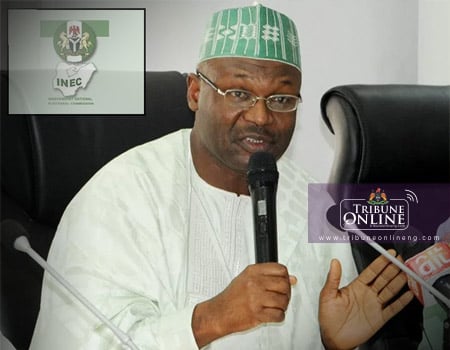 National chairman of the Independent Electoral Commission (INEC), Professor Mahmood Yakubu, has expressed concern over volume of subsisting court cases initiated by political parties.
Addressing participants on Wednesday at a two-day capacity building workshop for national officers of political parties in Abuja, Professor Yakubu declared that the court cases were fall out of lack of internal democracy in the political parties, which often generate internal dissension.
The INEC chairman said his Commission was determined to open discussion with political parties on how to mitigate litigation in political parties.
He said: "There are so many court cases, even on matters settled by the Supreme Court. The 1999 Constitution of the Federal Republic of Nigeria is very clear.
"Once there is a pronouncement by the Supreme Court, all citizens are duty bound to obey the judgment until there is another law superseding that by the National Assembly, the Executive or reconsideration by the Supreme Court.
"But there are matters settled by the Supreme Court that are still subjects of litigation.
"For instance, the famous Labour Party versus INEC case 2009 says that once an election is nullified on account of candidate's disqualification, the disqualified candidate cannot participate in the general election.
''It adds that the party that fielded a disqualified candidate has also lost its right to field a candidate in the election.''
The Chairman said a forum would be organised that would involve legal advisers of political parties to discuss what was needed and how to address such issues.
He further expressed optimism that the planned forum, would set a perfect atmosphere to get it right ahead of 2019 elections.
Also taking a swipe at political parties, National Commissioner, INEC and Chairman Election and Political Party Monitoring Committee, Professor Anthonia Okoosi-Simbine, accused political parties of lack of transparency in their funding and  campaign expenses.
He equally identified, among other challenges, absence of formal internal mechanisms for mediation, and dispute resolution.
In his presentation, Professor Mohammed Kuna, Special Adviser to INEC chairman said the workshop was designed to enhance and deepen democratic principles, ideas and practices among political parties.
He said it would also acquaint participants with administrative and organisational skills to strengthen the operations of their parties, in terms of formulation of policies, research skills and mobilisation of members.
He expressed the hope that the workshop would stimulate inter and intra party relationships and enhance the capacity of parties for strategic planning and communication skills.