In ten years, I see myself lifting millions of Africans out of extreme poverty — Olugbenga Ogunbowale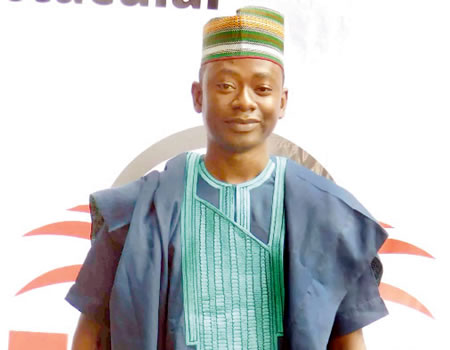 Olugbenga Ogunbowale is a psychologist, a Mandela Washington Fellow and the founder of Epower.ng. As a leader, he organises Spectator to Spectacular, an annual programme, through which he teaches young people leadership skills. In this interview by Kingsley Alumona, he speaks about his humanitarian endeavours, leadership experiences, Nigeria's leadership challenges and the way forward, and where he sees himself ten years from now.
Briefly tell us about your formative experience and how it has shaped your life and career.
I was much reserved in my primary school and growing up was certainly not rosy. Breakfast and dinner were usually guaranteed but lunch was up to you. The greatest gifts my parents gave us were strong moral values and a heart of service. I buried myself in books throughout my secondary school. in summary, from wearing patched shorts in my primary school here in Nigeria to rubbing shoulders with leaders like Ben Carson in Washington DC, my story is proof that any young person can rewrite their story and change their lives.
Is 'Spectator to Spectacular' an annual programme? And, why do you host it?
Yes, it is. Since 2016, I've been celebrating my birthday, on the 8th of September, by organising a thought-provoking seminar with the theme 'Spectator to Spectacular'. It's my way of inspiring young Nigerians to beat impossible odds and succeed. In this year's edition, leaders like Edem Ossai, Wuraoulwa Ayodele and Ako Eyo shared their untold stories: stories of sacrifice and self-doubt, of persistence and success. My ultimate goal is to birth a new generation of change makers and trailblazers who refuse to accept the status quo and make a massive difference in the society.
What inspired you into leadership and humanitarian business? How did your psychology degree help that effect?
I get upset when I see extreme poverty. This is why I'm accelerating the application of digital skills for economic prosperity through Epower, while ending orphan poverty in Africa through The Orphan Empowerment Society (TOES). Bagging a degree in Psychology helped me to better understand human behaviour. I'm more compassionate and understanding now. My knowledge of psychology helps me relate better with people and lead motivated teams.
US, Turkey reach ceasefire deal in Syria
Which other degrees and fellowships do you have?
I am an alumnus of the Leadership in Business Institute of Kellogg School of Management (USA) as well as the Building Entrepreneurs Today program of the Enterprise Development Centre and Diamond Bank. I've a Bachelor of Science degree in Psychology from Obafemi Awolowo University (OAU). Asides from being a Mandela Washington Fellow, I'm a Tony Elumelu Fellow, Royal Commonwealth Society Fellow, YALI West Africa Fellow, League of Extraordinary Young People Fellow, DESPLAY Africa Fellow, among others.
Why were you rejected three times for the Mandela Washington Fellowship in the United States?
I applied four times in a row—2015, 2016, 2017 and 2018. In 2016, I failed the interview because I did not have the numbers to back up my business. I had gotten to the interview on the strength of my exploits during NYSC. I won a merit award in Kogi State as a corps member and I talked about my social impact in my application, The interviewers asked for yearly sales and I said N500,000. They were shocked. And even though they liked my social impact, it was obvious I did not have a thriving business and I had no business in the business track. That was the end of the interview. Winning these kinds of fellowships requires focus around a particular problem in society, usually around SDGs. By 2018, I was running a thriving digital agency, Epower.ng. Asides from connecting SMEs to customers through building websites, mobile apps and custom software, we had also trained over 3,000 youths, with many getting jobs or starting businesses. So, the focus of my 2018 application was how we were solving unemployment by equipping youths with digital skills. This made it easier for me to craft compelling stories and a powerful application. That was how I got in.
Tell us about your NGOs or initiatives?
I am the founder of The Orphan Empowerment Society. My motivation to tackle orphan poverty originated from a trip I took a few years ago. I visited an orphanage in Osun State and met Ruth, a 10-year-old with battered shoes and hunger-stricken frame. Ruth shared tooth brush and barely took her bath with soap, alongside 50 orphans at the tiny orphanage. These kids were happy to see me and hungry for knowledge. Yet, they were in desperate need of food and medical help.  I was moved by the plight of Ruth and her friends. Even though I didn't have much by way of money at the time, that encounter inspired me to assemble a team of five. In three years, that team of 5 volunteers has grown to 5,000, empowering over 20,000 orphans with free vocational skills, food and medical care across nineteen African countries. I'm also the co-founder of the communication and leadership organization, Pacesetters Leadership Club. The club grooms lambs into lions. Essentially, we help youths sharpen their public-speaking and leadership skills. Several of our members, who joined as unemployed youths, landed lucrative jobs within months of joining and some have been accepted into prestigious fellowships all over the world.
You said you met the American author and neurosurgeon, Ben Carson. Where did you meet him and what was the experience like?
Ben Carson was one of the speakers at the Mandela Washington Fellowship Summit in Washington DC. I was seated in the front row and he spoke right in front of me. Just hearing him speak, from so close a distance, was inspiring enough. Hearing him tell his story again was mesmerizing. He had been a role model from afar—now I was in the same room with him. I was happy and inspired and grateful for the opportunity to meet people like Ben Carson.
Do you regard Nigerian politicians as leaders? If on the contrary, what leadership traits do they lack?
Of course, Nigerian politicians are leaders. It's the kind of leadership they offer that is up for debate. During my DESPLAY Africa Fellowship, I learnt from Kingsley Bangwell that good leaders must have four key attributes— Competence: good leaders have the knowhow for the task, are humble enough to admit when they are ignorant and smart enough to surround themselves with competent hands; Character: they consider the process as of the same value as the end result and will not achieve results through crooked means or 'whatever means necessary'; Vision: good leaders are driven by a compelling vision to improve society; Love for people: People, not things, titles and honors bring good leaders their fulfillment.
Do you think Nigerian education is capable of producing world-class leaders that can compete with peers in developed countries?
The average Nigerian graduate lacks employable skills needed by employers of labour. The nation's education system fails to equip learners with skills needed for the twenty-first century. Yet, it releases 1.8 million youths into the job market yearly. The current educational system in Nigeria is built for the nineteenth century. The people who graduate and excel do so in spite of the system and not because of it. We need seasoned academic professionals with global clout and new perspectives to lead in government, draft policies, revamp the curricula and the approach. We also need more technology start-ups to re-imagine education for twenty-first century realities.
If you were Nigerian president, what would you do to ensure that the country would the hub of leadership, innovation and entrepreneurship in the world?
It starts with a compelling vision. Obviously, we need to move away from being oil dependent to a robustly diversified economy. United Arab Emirates has done this and several other nations. So, it's doable. I would recruit the best hands to actualise the vision. Round pegs in round holes. The biggest problem with political leadership is that we keep appointing people based on party affiliations and connections rather than competence.
Where do you see yourself ten years from now?
In ten years, I see myself lifting millions of Africans out of extreme poverty.
Who are your mentors?
I learn a lot from outstanding young leaders like Mene Blessing and Adepeju Jaiyeoba. I closely follow the works of Greta Thurnberg and Strive Masiyiwa. My biggest role models are Bill Gates, Barak Obama and Aliko Dangote.
What advice do you have for young people who are aspiring to be like you?
Greatness is a choice. Record-breaking is a lifestyle. There is almost nothing you want to be or do that someone else has not done or attempted. Seek out mentors and role models. Seek out those who are doing every day, what you want to do someday. This will save you years of trial and error. Be relentless in your pursuit of knowledge and in the application of what you learn. Focus on a few things. The world desperately needs leaders and change agents. You are the one you have been waiting for.