'In Lebanon, I asked for my pay but I was sent to psychiatric hospital'
•'We thank Gov Oyetola for making our return home possible'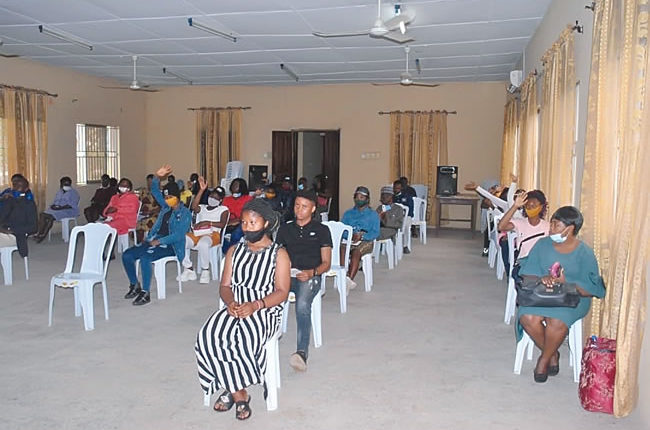 Amina Kadebola received a guarantee that she would get a high paying job in Lebanon, a job that would pay an equivalent of One Hundred and Fifty thousand naira (N150,000) as a domestic worker, a sum that she felt was good enough to afford her a good life and also help sustain her family in Nigeria.
She jumped at the chance without asking further questions. It was an offer that even a debased mind is not likely to turn down, and more so, a fortune for a 22-year old. Little did she know she'd end up in a slavery cubicle, enduring months and moments of untold hardship, inhumane treatment and physical abuse.
With so much energy and passion, she embarked on the journey to Lebanon in February 2020, with an audacious gamble involving her parents. They had used the documents of their house as a collateral to raise funds for her trip, hoping that the money would be recovered after a few months of earning a middle-class salary in Lebanon.
The story began to change when Amina was subjected to a re-negotiation to take Sixty-Three Thousand Naira only (N 63,000) as against the bait that made her burn her bridge. She didn't have a choice but to take the "pay cut" and assume duty immediately. Afterall, there are bills to be settled back home, and the earlier this is done, the safer it is for her parents.
According to Amina: "Our masters did not treat us well at all. They did not treat us like human beings. We were subjected to untold hardship. We were not paid our dues and forbidden from asking for what was due us. At some point, I demanded  for my pay and my master became displeased with me, and sent me to the psychiatric home.
"I don't know the conversation that went on without my understanding, but I was given a drug that was meant to make me numb, but thank God I did not use the drug.
"I had lost hope on ever returning home alive. Even in death, we were not assured of a burial because they dump bodies in canals and move on like nothing has happened. We thank God for the Nigerian Embassy in Lebanon that rescued us at some point, and for Governor Adegboyega Oyetola of Osun State that made our return home possible.
"Our experience was very unpleasant and we want Nigerians to be wary of where they go in search of greener pastures. It is better to be content with what we have at home than to go to where we are not appreciated, where we are treated like slaves", Amina explained.
Amina, and the other ladies, became victims of criminal networks that cynically plotted an escape from the economic hardship prevalent in the country with promises of lucrative jobs that eventually proved to be a death trap in a perilous journey's end.
Another of the ladies, Ayobami Ibukun, narrating her harrowing ordeal, said that they were made to work for 20 hours in a day, with an affordance of only four hours of rest.
According to her: "If you complain that you are weak, they will tell you that it is not allowed to be lazy. We were maltreated. They detested our colour. We could not rest. I spent only one year and one month in Lebanon, but it looked like ten years", Ibukun said.
More interesting, perhaps, is the case of one Adedolapo Mariam, who abandoned her National Diploma programme in Nigeria to take the leap that later became a tale of "had I known".
She described the work as wickedness in display, cleaning services that required them to even scrub ceilings and outer walls. All for free, of course.
The girls were simply opportunity costs for a thousand and one mundane engagements, as their bosses would tell them that they would not get paid because a birthday party was more deserving of attention.
The condition was so horrific that the girls would not dare complain to avoid further troubles. Adedolapo said a lady was given bleach to drink by her boss, and would have died but for quick interventions.
Some people who could not bear the hardship of menial jobs, in a bid for survival, were trafficked into doing what they call "sharamuta", which is prostitution.
The Diaspora Focal Officer for Osun State, Titi Fadahunsi-Ajayi, in an interview said that when a letter came in from the Nigerian In Diaspora Commission to Oyetola, asking for help in evacuating some of Osun State citizens stranded in Lebanon, "it was almost as though he left everything he was doing at that instance and indeed for the day, to attend to the distress call. That same day, logistics were reeled out for the repatriation of the girls. Such was the passion of a father to her see her marooned daughter rescued alive and returned home safe.
"Like the proverbial father of the prodigal son, standing at his door mouth and gazing into empty space in anticipation of his son's return; like the father ran a distance when he sighted his son from afar;  Oyetola looked forward to the return of these ladies since he was notified of their ordeals, funding their trip back to Nigeria and even empowering them at their return.
"An antithesis of a breached assurance of economic emancipation eventually ended in a surrealist episode of fulfilled promises. Oyetola's financing of the repatriation of the girls and empowering them attest to the fact that with Oyetola, all lives matter, indeed," she said.
YOU SHOULD NOT MISS THESE HEADLINES FROM NIGERIAN TRIBUNE
What I Told Trump About Christian Massacre Allegation ― Buhari
President Muhammadu Buhari, on Tuesday, revealed his response to President Donald Trump over the American leader's allegation that the Nigerian government was slaughtering Christians, telling him that the problem between cattle testers and farmers was a cultural thing rather than ethnicity or religion…
COMMENTARY: Four Reasons It's Stupid To Compare Nigeria's Petrol Prices With Other Countries, By Farooq Kperogi
In trying to justify Buhari's latest callous hike in the price of petrol (amid a pandemic, no less), Buhari's supporters increasingly sound like noisome idiots straining hard to be low-grade morons. Here are four reasons it's stupid to compare Nigeria's petrol prices with others…
Constitution Review: Middle Belt Congress Seeks Additional 19 States, Abolition Of Local Councils
Ahead of the proposed amendment of the 1999 Constitution by the Senate ad-hoc committee led by Senator Ovie Omo Agege, the Middle Belt Congress has submitted a memorandum to the Committee.
Investigation revealed that the MBC is seeking for the creation of an additional 19 states in the country to make the total number of states to 55…
50 Million Nigerians May Develop Mental Illness, Commit Suicide ― Expert
Contrary to what many people think, a mental health expert, Dr Jibril Abdulmalik has said that 50 million Nigerians stand a risk of developing mental health problems, and some culminating in suicide.
Dr Abdulmalik spoke at a one-day online training on mental health and suicide reportage for media practitioners in commemoration of the World Suicide Prevention Day (WSPD) 2020…