I'm happy making the world a better place —Ireju Ajie
Ireju Olivia Ayodele Ajie is a general dental practitioner, an advocate for the rights and health of women and the girl child. In this interview by ROTIMI IGE, she speaks about her passion for improving the health and wellbeing of women and the girl-child.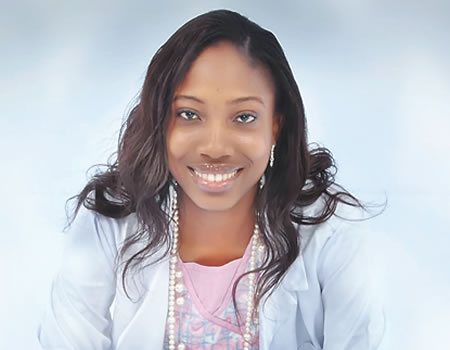 When did you decide to toe the medical line?
I grew up in a close knitted family. My father; a medical practitioner was and is still my super hero. I thought to myself that I should just read medicine and be a "super hero" like him. At a very young age I decided to toe the medical line.
Why dentistry?
I wanted to read medicine all along but at about the time I was to fill my JAMB form, I attended the formal opening of a dental clinic that belonged to a family friend; I was blown away by the setting of the dental clinic (it was my very first time at a dental clinic). That very day I decided I would study dentistry; I saw it to be very interesting.
Do Nigerians take care of their teeth?
Yes they do. We can do better by going for regular checkups at dental clinic, scaling and polishing of our teeth once in six months, eating right-less junk food and more fruits and vegetables and brushing twice a day. For the children, regular visits to the dentist should start early to help prevent phobia for dental clinics.
You are involved in other projects. Tell us about them?
I volunteer with Medical Women's' Association of Nigeria, Rivers State (MWAN). I have served and I am still serving in various capacities. We are a non-governmental and non-profit organisation of female medical and dental practitioners in Nigeria. We are affiliated to the Medical Women's International Association and Nigeria Medical Association. Our motto is: 'Matris Animo Curant' -'Healing with the love of a mother.' We are passionate about the health and rights of women and the girl-child by carrying out health sensitisation campaigns, screening for breast and cervical cancer, vaccination of the girl-child with HPV vaccine to protect her from cervical cancer, screening for gestational diabetes in pregnant women, we are also involved in advocacy visits and campaign for the elimination of violence against women and girls. As well as other health activities that would improve the health and well being of the women and girl-child.
What motivated you to be involved in such humanitarian projects?
I love to volunteer; it is a way of  giving back to humanity. Women are the caretakers and rearers of the family. So, it is best we improve their health as it reflects on their families and the society at large. It is the grace of God that brought me this far. I am happy to give my time, money and professional expertise to contribute to making the world a better place.
Would you say that the Nigerian government and its citizens are doing enough to liberate the girl child?
The government and its citizens have done a bit, but we are all part of it and can do much more.
What sorts of advocacy would you advice?
Any form of advocacy is good as long as it is civil and doesn't promote violence. Legislative advocacy is necessary as we need the laws to help us effect the necessary change we desire.  Media advocacy is needed to reach a large number of the population to educate them on issues.
What's next for you?
I would continue with what   I do just take it a notch higher, go back to school to read some more.