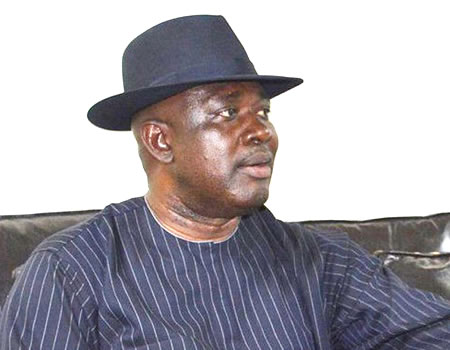 The fisheries output in Nigeria currently falls far short of demand for fish, according to the Minister of State for Agriculture and Rural Development, Senator Heineken Lokpobiri.
He said fisheries requirement in the country is over three million metric tonnes, but what Nigeria produces  just about 1.1 million metric tonnes, with still a gap of about 2 million metric tonnes.
The minister disclosed this during a meeting with the national committee on Harmonised Standard Operating Procedures (HSOP) at the ministry's headquarters in Abuja.
He lamented that the illegal activities of fishing companies was partly responsible for this. "Our territorial waters are not policed to prevent illegal unregistered fishing. The Chinese, Russian and others are coming to Nigerian territorial waters and freely fishing," he said.
"Part of the reports we got is that you hardly will see vessels that are arrested and brought to Nigeria on account of fishing illegally without permit on our territorial waters."
He expressed worry that, "everyday, vessels come here, but everybody believes that, in Nigeria, you can bribe your way. So, they come with some dollars. They bribe your officers who are on the high sea, and then they fish as much as they want and they go back."
Moreover, he said, the illegal fishing also poses "a lot of danger to our own local fishermen and women. We don't have the capacity to police or provide security for them. It is the Nigerian Navy that should do that. But the Nigerian Navy has too many challenges and has not been able to police our very long coastal waterways."
The minister's view was corroborated by the chairman of the visiting committee members, Air Vice Marshal Ibrahim Shafi'i, who said that "there are so many illegal activities cutting across all the agencies that are represented in the HSOP."
In Shafi'is words: "Often, you find lack of cooperation even between sister agencies. Several times, you find that people don't collaborate, even where they are supposed to assist each other in carrying out their assignments."
He stressed that, "generally, there is lack of coordination of activities. Almost everybody is on his own," prompting the Federal Government to set up a body "that would coordinate to produce document that everybody will be aware of, and involve all the agencies that have anything to do, either with arresting, or detaining or prosecuting persons that carry out illegal activities in our environment."
The committee on harmonised standard operating procedures, which he claimed was "an array representing several agencies," was launched January 26, 2017, with the mandate "to seek for cooperation, collaboration and coordination of activities on arrest, detention and prosecution of persons and vessels in our maritime environment."
It is also to "carry out, as much as possible, this mandate of trying to reduce to the barest minimum the illegal activities, which only one agency may not be able to handle effectively."
Lokpobiri expressed delight in that "this Harmonised Standard Operating Procedures document that was brilliantly put together is something we believe was long overdue. From fisheries resources alone, we should be able to earn billions of dollars in Nigeria. Right now, we spend perhaps close to a billion to import fish."
He observed that, "in Liberia, on internationally agreed rates, vessels in their territorial waters that are arrested and detained because they don't have requisite permit, will pay a minimum of $250,000. Nigeria certainly needs a lot more dollars now that petro-dollars are drying up."