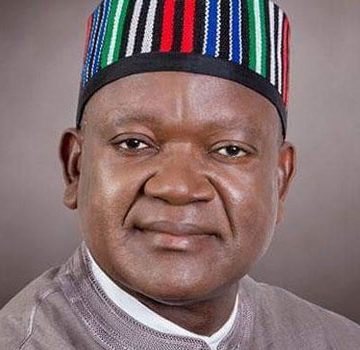 BENUE State Governor, Samuel Ortom has declared that the people of his state would early 2018 know whether he would seek reelection or not.
The governor dropped this hint while speaking with newsmen after meeting with a group under the auspices ' Igede Positive Youth for Ortom 2019 at the government house in Makurdi on Tuesday.
Ortom said that he is yet to start prayer where he would seek God direction whether he should continue in office or not.
He told newsmen that he would commence the prayer for his second term bid at the end of this year.
The group which paid the governor a solidarity visit in his office had urged him to run another term in office based on his track record of achievements.
Ortom stated that he is yet to commence prayers for his second term bid, averring that he will do so towards the end of the year.
"I have not even started praying.  I will start towards the end of the year.  Then, at the beginning of next year, 2018, I will tell Benue people yes or no", the governor stated.
It will be recalled that the governor had on several occasions told those who had asked him to run for reelection that he needed to seek divine direction in his second term bid.
He explained that God had 20 years ago used some men of God including the General Overseer of Redeemed Christian Church of God to prophesy of his emergence to the state most exalted seat.
Ortom insisted that he would not just for the sake of reelection declare without consulting God saying, 'only God can give me direction whether to seek second term in office or not, if He (God) says yes, I will go and no one can defeat me but if He says no I will retire back to my farm'.
In another development, Governor Ortom took a swipe at the Federal Road Maintenance Agency, FERMA, describing it as 'ineffective '.
He expressed disappointment at spurious claim made by the agency that they repaired the Nasarawa-Benue road at Yelwata that caved in recently as a result of flooding.
Ortom said emphatically that Benue State government through TRIACTA, a construction company handling roads construction in the State.
"FERMA is just lying that they repaired the road.  I directed my Commissioner for Works, Emmanuel Manger to contact any construction company working within the State to effect repair on the road."
"TRIACTA and CGC came swiftly but Triacta was working around the area, so it was easy for it to move in, so i was surprised that FERMA is claiming to have repaired the road, same companies are repairing federal road in Gboko."
" That agency (FERMA) is ineffective. They should come to Benue and I will show them where to repair roads instead of making false claims. Tell me what they have done.  They are doing absolutely nothing", Ortom fumed.