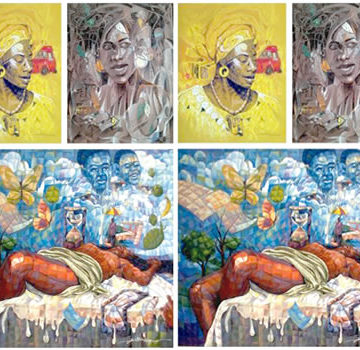 Jonathan Ikpoza's, first solo exhibition titled, Geometrism will open on August 19, at Terra Kulture Art Gallery, Victoria Island, Lagos.
The show featuring about 50 works including new mixed media, oil, fabric, acrylic, prints, charcoal and pastel on various surfaces will run till August 28.
The presentation of the works, according to a statement by the artist, will be "characterized by flow of geometric rhythmic movement of lines and shapes enveloped into creative colour orchestration."
Ikpoza's works capture the quest of human beings for freedom and preaches peace in a violence filled society. As the only selected Nigerian artist amongst 55 international artists that exhibited at the Santorini Biennale Greece tagged: Peace Mechanism, he has continued to create works that focuses on how positive energy and peaceful cohabitation can ensure a violence free society.
The artist's adventurous journey with Geometrism dates back to 2000 when his exploration of various art movements led him into African expressions on wood and stone. His wide array of anatomical study and distortion is evident in each of his works as he uses lines stretched across space and forms, breaking the monotony of rendering geometric shapes with flat tonality.
Ikpoza's works have been shown and collected in various museums and galleries in Nigeria, Senegal, Greece, UK and the United States. He is supported by Jonix studios Limited and Adeodunfa Unlimited.