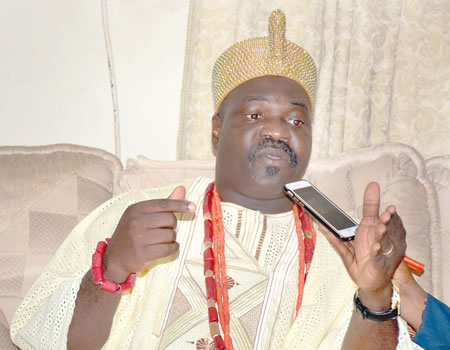 SEGUN KASALI and SYLVESTER OKORUWA were with Olugbon of Orile-Igbon, Oba Francis Alao, who shared with them his life experiences, including his involvement in the Liberian war.
What are your boyhood memories?
My growing up was very interesting in the sense that I came from a devoted Christian background and things were very challenging. I had my primary and secondary school education in the North before coming to the West for my West African Examination Council (WAEC) examinations. Thereafter, I proceeded to University of Liberia, which was very challenging because I grew up in a Christian family. My father was an accountant in a company in Jos and at the same time, he was the church organist. He became a cleric, so, things were not really good then. But as a child of destiny, I was focused and worked hard in my studies.
I went to Liberia for an Accounting programme. After my graduation, I worked there for some time. All of a sudden, the war started. The outbreak of the war in 1990 got me trapped and ECOMOG came in. As a result, I developed strong relationship with a lot of military officers; a lot of them were Generals but retired, today.
When I said growing up was challenging, it was because for a young man, who was growing up and had challenges before finishing his secondary and university programme, and got entangled in the Liberian war, all of these made it more difficult. But God so helped me and I came out of it prosperous, successful and victorious. One of my closest friends happened to be the current GOC, 8 Division of the Nigerian Army, Major General Steve Olabanji.
There are many of them like that. They always envy me, thinking that "this man has seen it all." Thanks to God that as at the time I came out from the war, I became a successful businessman throughout West Africa, Europe and other continents. I was also getting jobs from banks.
Can you share your Liberian war experience?
As a businessman shuttling between Liberia, Nigeria and Europe, I was about traveling through Robertsfield International Airport when I was told that we could no longer travel again because the rebel were close to the airport, which prevented many planes from landing . It took about 40 minutes from the airport back to Monrovia city. Within the space of three months, the war had moved into the capital where I was. I thought everything was gone, but unknowingly, God was going to help me. God brought me out. As a businessman, I started with about 250 dollars. Within a year, the 250 dollars increased to about 200,000 dollars.
You turned adversity into prosperity?
I saw the situation in Liberia that there was no food for survival and thinking of how people would survive, I began to follow the military helicopter to neighbouring Sierra Leone to buy flour. I started business with about 5 bags of flour. I was getting a bag of flour at the rate of 100 dollars and by the time I sold it, I gained almost 1000 dollars on a bag. So, 250 dollars that I started with, which I used to buy five bags, turned to 5000 dollars. Later, I went into using ships to buy those things. From there, I became a big businessman and I had to return to Nigeria. Then, I joined one or two other products with it and business grew to becoming contractor to banks.
So, the past challenges are your driving force today.
You cannot quantify the challenges 1 had in the past. If you sleep and wake up the next morning, it was the grace of God. There are some blessings from God that we take for granted.  For me, coming out of the challenges, to becoming a strong businessman was by the grace of God. Again, the struggles exposed me to so many business opportunities. I started Oyo Towers, which has to do with telecom infrastructure. What I did was to put conglomerate of business entities together and I said to Oyo State government that in order for you to raise your IGR, there was a need, to leverage on the benefits of telecoms operators. As a result, I came up with a SPV, Special Purpose Vehicle, and one of the proposal was to encourage co-location services. This means that five or more operators should co-locate their antenna in one place and let Oyo Towers manage it. That was how we started.
Is your ingenuity inherited or developed?
Yes, I took the entrepreneurial spirit from my mother's side. People from my mother's side are very creative and ingenious when it comes to business. Those who are professionals among them are very excellent. One of my uncles was once a teacher at a Victoria Island secondary school then. He studied in America and graduated, with distinction in Mathematics. And the time I came to do my WAEC in Lagos, I spent some time with him and discovered that in-born quality. The way he creates formulas is different from the conventional way that most mathematicians do.
Were you spared the rod, being an exceptional child?
I used to be stubborn. I remember when I was seven before leaving for the Northern part of the country, I had a near-fatal accident that got me hospitalised for almost 9 months. This was due to my stubbornness.
Honestly, I am the type that if you say there's darkness here, I would want to find out what caused the darkness. I am very inquisitive. Then, they saw inquisitiveness as being stubborn because I would always want to get to the root of the matter. So, my mum would always say "you have started again." At school in the north also, there was one boy called Ali. We used to play together in those days. So, one day, Ali left school and came to our house. He got me angry and ran away. When I saw him the following day, I dealt with him. Then one day again, he watched me closely and stoned me. I still have the mark till today. Towards the time we were leaving the north, I made sure that I gave him-the mark back by hitting him with a stone. But he is grown up today and whenever we remember the incident, we laugh.
Amidst my stubbornness, I got some beatings, especially from my dad. He was a teacher. You know teachers in those days were so disciplined. My dad would tell you to stand up or stoop down. He may ask you to raise your two legs up, two hands up or ask you to carry the table. At times, he would beat you and the other times, he won't apply beating. He would give you some strenuous work, whereby you learned. He taught me some lessons and those lessons turned to be useful for me today
Do you have a bit of him in you?
I took a lot. He's a very caring father, very loving and a good singer. My father sings a lot and my younger brother has taken that trait too, that's Pastor Tosin Alao who is with Pastor Ituah Ighodalo. At times when I'm sad as king, all I need to do is to go down on my knees and sing praises to God. My wife is a pastor at the Redeemed Christian Church of God.
How romantic is Kabiyesi?
Oh! That's between my wife and I
Do you still do the valentine stuff?
Yes. My wife and I travel to spend some time together. She's a very loving woman. She's wonderful in that. At times, she tells me let's drive out so that we can talk. When we travel out, we travel as lovers to have pleasant time with ourselves. For this period as king, I still create time for my wife. I can't even do without it. Recently we both traveled to US and I left her there for Nigeria. When I came back, hardly could I eat because I was missing her. She does most of those things for me and I don't allow any house-girl to do it.
How did you hook her?
The issue of civil society brought us together even though we've known ourselves quite well before that. We built it gradually. We found each other interesting and it developed into a relationship. I think it's because we are of like minds.
Even like minds do disagree…
Absolutely. All I know is that it is very difficult for us to disagree and not make it up within a few hours.  Probably, the following day, we truly seek to mend fences because we do a lot in common. We share a lot in common in terms of businesses, personal issues and domestic affairs. So, all those things bind us together.
What is she trying to change in Kabiyesi?
My wife is the quiet type. For me, I see myself as an extrovert. At times, she would want us to do something quietly and I would say, why must we be quiet if God has done this for us. And there's another issue. Naturally, my voice used to be loud. If I talk here, people will be hearing me at the gate. But for my wife, she doesn't like it. And honestly, since we've been together that has reduced. Sometimes, I ask her why she loves me and she says I'm a very wonderful man and very caring. She also asks me why I love her and I tell her she's very caring.
Unforgettable incidents?
Hmm! When I was caught up in the Liberian war, and within the space of one year, I came out of it. I thank God. Then at age six, I had a near-fatal accident and I was at UCH in Ibadan for 9 months. I thank God for sparing my life through those two incidents.
As an eye-witness to the war, were there untold stories?
One, would be what Nigeria as a nation did in during the war. Most of us who schooled there, established businesses there, knew the efforts Nigerian government made. In fact, they see Nigeria as super power within the West Africa and African community, and that's why I still pray and wish that the country continues to play that leadership role. It wasn't easy going through all that especially our Armed Forces. They did well. They sacrificed their lives. They did all they could to foster peace. Whatever Liberia is today, it took the grace of God and, Nigerian government as an instrument.
What can you call your indulgence, sir?
My wife is the one who makes choices for me fashion-wise. She would say this is channel shoe, channel bag. But I'm a man, who cares about that. I don't apply body cream. Normally, I put on my dress and wristwatch. In fact, I would allow her get dressed before me because I know that at most 15 minutes, I'm done with whatever I want to do. So, for me, there's nothing particular that I can think of.
Are you an outgoing Oba?
Of course, yes. One of my friends calls me digital oba. You know, Oba with style, decorum and class. Of recent, there was this African Fashion Week. Who did you find there? Of course, myself and the Ooni. As traditional rulers we should come up with style. We should have carriage. In those days, an Oba would not even raise his hands to shake you. But for me, while some of my subjects prostrate, I would say you come, come and shake hands. We are just trying to draw them nearer. We don't want them to see the stool as a fearful thing. Obas are there to serve people and for people to serve them.
What gives you a lot of joy?
Honestly, what gives me a lot of joy is God. It takes the grace of God for me to sleep and wake up in the next morning. There's nothing that can give joy other than the grace of God that has brought me this far. He sustained me through my school days, challenges of life, as a businessman and now brought me this far to become a first class king and the vice-chairman in my state.
There's no challenges that would come to me on this throne without God finding a solution to them. In my domain, a lot of people come around and I'm in a position to give out. I'm in a position to put smiles on the faces of people especially the under-privileged. I do say that kingship is a calling and I'm always ready to give out from what God has given me. Honestly, I'm happy and to the glory of God, I will continue to give thanks to God.
What is that about you not known to the public?
There's nothing other than I'm a socialite, a businessman. Most people who knew me then didn't know that I was rooted as a Christian. I think it's only my wife and family members that know that this man is so rooted.
You appear to value marriage so much…
Marriage is a great union ordained by God, and honestly, I kept telling my wife that I can't do without a wife and I can't have two or three wives because honestly, the only one I'm managing, I'm still thanking God because we are compatible. I wonder how my colleagues in the traditional institutions with two or more, do it. Marriage should be embraced by everyone because it's what the almighty God has ordained. I pray that as God as sustained myself and my wife, he will also preserve the homes of everybody. And for those who are yet to, I pray that the almighty God will give them wonderful women as wives.